Dr Alice Roberts
Alice is fascinated by human evolution and the diversity of the human species.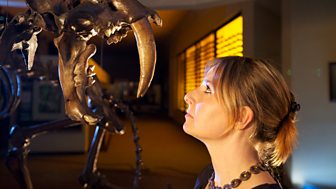 Before becoming a university lecturer Alice trained as a medical doctor.She taught anatomy at the University of Bristol for eleven years. It was there that she developed an interest in biological anthropology, researching the evolutionary history of ancient skeletons.
Alice is now professor of public engagement in science at the University of Birmingham. As well as traditional academic responsibilities, she is interested in encouraging and promoting dialogue between university researchers and the wider public.
She has written four science books and writes a regular science column for The Observer. Two of her books were written to accompany television series: Don't Die Young, an introduction to human anatomy and physiology, and Incredible Human Journey, about the ancient colonisation of the world. Themes of anatomy and human evolution are further explored in two illustrated volumes, The Complete Human Body and Evolution: The Human Story.
She first worked with the BBCs Natural History Unit in 2011 on Woolly Mammoth: Secrets from the Ice. She continued working with the same team to make Ice Age Giants.
Professional affiliations and qualifications:
• PhD in palaeopathology
• Member of the Advisory Board of the Cheltenham Festival of Science
• Judge for the annual Wellcome Image Awards celebrating art in science
• Patron of the Association of Science and Discovery centres
• Honorary fellow of the British Science Association
• Honorary fellow of the Society of Biology
• Director of Anatomy for the NHS Severn Deanery School of Surgery
Other shows Alice has presented: