James the First
James was king of Scotland until 1603, when he became the first Stuart king of England as well, creating the kingdom of Great Britain.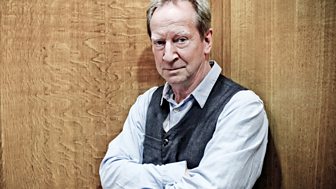 | Fact title | Fact data |
| --- | --- |
| Born: | 1566 |
| King of Scotland: | 1567-1625 |
| King of England: | 1603-1625 |
| Married: | Anne of Denmark (1589-1619) |
| Died: | 1625 |
James was born on 19 June 1566 in Edinburgh Castle. His mother was Mary, Queen of Scots and his father her second husband, Lord Darnley. Darnley was murdered in February 1567... Read more at BBC History
Peace is what I wanted, it's what I've always wanted.

From 'To Make the Plough Go before the Horse'
James VI was born with the lucky caul (a piece of amniotic sac) which, according to the superstition, guaranteed him of not meeting his death by drowning.
Possibly unconnected to this myth, James was the first monarch to travel by submarine.
More about Bill Paterson who plays James I
Since making his professional debut in 1967, Bill Paterson has played many varied roles on film, television and radio. Bill appeared in the original radio version of The Hitchhiker's Guide to the Galaxy in 1980s and played Percy Alleline in BBC Radio 4's dramatisation of Tinker, Tailor, Soldier, Spy in 2009. He most recently appeared in The Low Road at The Royal Court.