Ricky Hatton
Former boxer Ricky Hatton is ready to battle in the ballroom for Comic Relief.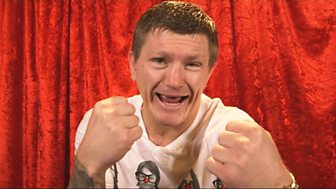 Ricky Hatton is a former two-weight boxing champion, winning titles at light welterweight and welterweight in his 48-fight career. Nicknamed Ricky 'The Hitman' Hatton, he started boxing at the age of 10 and has been filling arenas since he turned pro in 1997. He was made an MBE for services to sport in the 2007 New Year Honours.
Ricky grew up in Stockport and after leaving school he joined the family carpet business, but after he cut four of his fingers with a Stanley knife, his father made him a salesman to prevent him from losing his fingers. Both his grandfather and father were footballers and hoped he might want to follow in their footsteps - but he preferred to compete in the ring, so at the age of 18, Ricky entered the world of professional boxing.
Among other titles, Ricky has gained major titles such as the IBF Light Welterweight Champion and the WBA Welterweight Champion of the World.
In July 2011, he announced his retirement from boxing. He attempted a comeback in 2012 but the match ended in defeat when he was beaten by former world champion Vyacheslav Senchenko. The popular Mancunian has branched out into boxing promotion and management since retiring and he works closely with his brother Matthew who is also a fellow boxer.
Ricky lives in Hyde with his fiancée of three years Jennifer and their 19-month old daughter. Their house is named "Heartbreak Hotel" due to Ricky being a big Elvis Presley fan. Jennifer is pregnant with his third child, which is due in 2013. He also has a son, Campbell, from a previous relationship.
Trivia: