Charlotte Barbour-Condini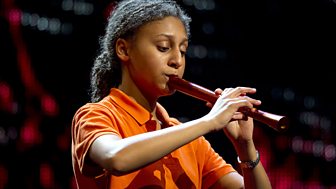 | Fact title | Fact data |
| --- | --- |
| Age: | 16 |
Charlotte, from Stoke Newington, London, began learning the recorder at the Lyceum Primary School in London. From the age of 10 to 14 she received individual lessons with Rachael Hatton and Emma Murphy. She also started piano lessons at the age of five and violin at the age of seven with Leanne Sinha (née Wren).
Charlotte is a Music Scholar at City of London School for Girls (CLSG) and is a member of the school's Senior Orchestra, Senior Choir and Recorder Ensemble. She is also the 2012 winner of the CLSG Senior Musician of the Year Cup.
In September 2010 Charlotte became a student of the Junior Royal Academy. Her principle study is recorder with Barbara Law and her second study is violin with Ben Wragg. In 2011, she won the Junior Academy Wind & Brass competition Junior Prize. She takes part in the Recorder Ensemble and the String Chamber Orchestra and is also a member of Kuumba Youth Music, a community run organisation.
Charlotte has been taking part in Music Festivals and Charity Concerts since 2008 and is the first recorder player to win the Beckenham Musician of the Year 2009 and 2010, Rickmansworth Young Musician of the Year 2010 and the 2012 Stratford & East London Young Musician of the Year. Charlotte is also delighted to be the first BBC Young Musician Woodwind Category Winner on recorder.
In 2008 Hilary Coates became her piano tutor and in 2010, Charlotte won the Sheila Mossman prize and an ABRSM Silver Award for her Grade 7 piano. She was awarded another ABRSM Silver Award for Grade 7 violin, taken in 2011. Since then, she has achieved Grade 8 Distinction in both instruments.
Charlotte lives in Hackney and is leader of the Hackney Borough Youth Orchestra, which she has been a member of since its formation over 4 years ago. The Hackney Music Service, over the years, has provided her with many performance opportunities as a member of the orchestra, in various ensembles and as a soloist.
When not involved in her many musical activities or revising for her GCSEs, Charlotte likes to go running and training with her local club Heathside. She represented the City of London Schools in the London Mini Marathon this year.
Category Final repertoire
Anon: Trotto
Castello: Sonata Seconda
Panufnik: Remember
Martin-Linde: Music for a Bird
Accompanists: Hristo Duchev (Percussion) & David Gordon (Harpsichord)
Final repertoire
Antonio Vivaldi (1678-1741)
Recorder Concerto in C minor, RV 441
Allegro non molto
Largo
(Allegro)
Think of Venice. Not as it is now, overrun with tourists, but 300 years ago: a bustling port, as important as any on the Mediterranean. Among all the wheeling and dealing you see a man hurrying past the Doge's Palace - a priest, with distinctive red hair. That'll be Antonio Vivaldi - violinist, teacher, and one of the most prolific composers the world has ever seen - the Red Priest.
He's in a rush because he's got lots on - he's only going to be on the planet for 63 years: he's got staggering quantities of music to compose, and he's got to rehearse for the premiere of that set of violin concertos he's just written for himself, about the seasons. Oh - and not forgetting his orchestra and choir to rehearse at the Ospedale della Pietà - an orphanage which, through sheer hard work on the part of teachers like Vivaldi, now has a reputation for brilliant music-making. To Vivaldi, that music making would have been a monster with an insatiable daily appetite for new music. On the other hand, with such brilliant players available, how wonderful it must have been for him to compose music for almost any instrument, and know it would receive a fine performance.
So perhaps - while Vivaldi the teacher was inspiring his pupils - he too was inspired by their youthful energy and vitality. And among more than 450 concertos, there's this gem for recorder and orchestra. It's serious, dramatic and requires phenomenal, lyrical virtuosity. While it might not be as famous as some, it's as good as any.