Bethan Elfyn
Bethan Elfyn plays a mix of classic rock and new Welsh acts every Saturday evening on Radio Wales, and is regularly joined by special guests from the Welsh music and entertainment scene.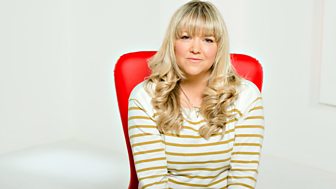 Bethan Elfyn has been broadcasting and reporting across Welsh radio and TV since the late 1990s. She started with BBC Radio Cymru in the north of Wales, working across the board from politics to music; interviewing millionaires, farmers, millionaire farmers, lots of musicians, comedians, drama 'luvvies', and the highlight of the whole lot - a record breaking "human mole".
In 1999, she was chosen to front BBC Radio One's exclusive new music show for Wales, the Session in Wales, presenting the late night show on BBC Radio One till 2010. The decade was spent firmly ensconced in the UK's music scene, hosting main stages at festivals across the land from Reading to Green Man, and DJing clubs, student balls, festivals and fashion events.
Bethan's also been on-screen as host of The Pop Factory on BBC Wales, Popcorn and Dechrau Canu Dechrau Canmol on S4C, and currently presents on BBC Radio Wales every Saturday night from 7 PM - 10 PM - a show which has seen the cream of the Welsh music crop come in to co-host, from Sir Tom Jones, to James Dean Bradfield, to Cerys Matthews and many more.