Desmond Carrington
Hear Desmond, Fridays 7-10pm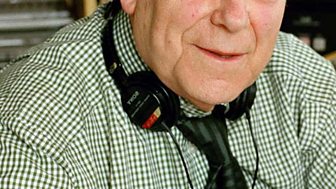 I'm one of the luckiest people in show business - at home in a beautiful countryside, doing what I love.

Desmond Carrington
After a spell in Northern Ireland, Desmond was posted to an Officers' training school in Mhow, India, where he was eventually commissioned. That was in 1945, the year the war in the Far East finally ended. Happening to hear some programmes from a British Forces Broadcasting station based in Colombo, Ceylon (Sri Lanka), Desmond managed to get himself posted to that very station, mainly through his barefaced lies that he was a fully experienced broadcaster.
On his demobilisation and return to Britain, Desmond picked up the threads of his acting career and appeared in stage shows such as 'Peter Pan' (with Margaret Lockwood), and he made several short films. He then joined the BBC Drama Repertory Company for a year, broadcasting regularly to listeners throughout the UK, while his Forces' radio experience gave him access to Radio Luxembourg. As an independent radio producer he began to make programmes on tape for Radio Luxembourg and the BBC. During the early 1950s he appeared as an actor in plays for another comparatively new medium, television – all 'live' performances then of course.
That decade was crammed with work in the theatre, in films, on radio and television, all of which led to a telephone call in 1959 asking if he'd be interested in playing a doctor in a serial called 'Emergency Ward 10' on ITV. This was a medical soap opera, planned to run for only a month or two and televised live twice-weekly from London. Desmond was to be 'Doctor Anderson' and his initial contract was for three weeks. He left after six years and some 350 episodes, his name and face known from Land's End to John o'Groats; one of the earliest 'stars' of a rapidly expanding galaxy.
Other television and some highly successful theatre appearances followed. He spent 4 years presenting the Daz 'Swap' TV advertisements in the UK, made guest appearances on TV quiz shows and music programmes, and contributed every week to the BBC radio series 'Movie-go-round'. He became one of the regular presenters of the daily series Album Time on the BBC Light Programme, as well as the record request show 'Housewives' Choice'. He also presented many live broadcasts of popular orchestral concerts from venues throughout Britain.
During the 80s Desmond continued working in the theatre, but now he was able to choose his roles, his favourite being King Edward VIII in Royce Ryton's Crown Matrimonial. He received critical acclaim for his performance in this and for two other leading roles - in Alan Bennett's The Far Country and Joe Orton's 'What the Butler Saw'.
In 1989 Desmond won an International Award for his radio scripts and production, and was voted British Radio Personality of the Year in 1991. For 11 years he co-presented the prestigious charity concerts given by the Massed Bands of the Royal Marines at London's Royal Albert Hall, and these now rate among his most cherished memories. He also piloted one LP album and three CDs featuring individual bands of the Royal Marines.
When the Radio 2 series 'All Time Greats' began in 1981, Desmond was chosen as its first presenter. He fully expected to be replaced after three months, but the series took off and he found himself in front of a microphone every week for the next 23 years! His Sunday lunchtime slot was then exchanged for a new series on Tuesday evenings, 'The Music Goes Round', which still continues. Together with his long-standing friend and producer Dave Aylott, Desmond researches and scripts all the record introductions as he broadcasts the programme each week from his Scottish home.
Desmond's broadcasts are now heard throughout the world via the internet and they bring a constant stream of emails to his desk. Is he soon going to retire? "Not while thousands ask me not to!". Then he laughs and says, "I'm one of the luckiest people in show business - at home in a beautiful countryside, doing what I love. It's not work, it's pleasure. Why should I stop?"