Athos
Athos is brave, resourceful and a natural leader of men. But he nurses a dark secret in his past.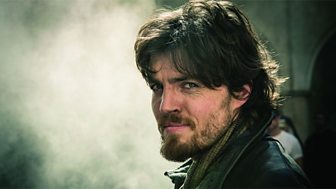 A brilliant swordsman, Athos is the glue that binds the Musketeers together. His character commands respect. At first sight he can appear arrogant but his offhand manner disguises a deep capacity for friendship. He is wryly humorous and engaging but during bouts of solitary drinking he has the capacity to hit the self-destruct button. At these times, the bottled-up darkness from his past threatens to engulf him.
Tom Burke
Tom is one of the UK's most highly respected and versatile young actors with starring roles across stage, screen & television. His film credits include The Invisible Woman, I Want Candy, and Only God Forgives. His work for television includes In Love With Barbara, Great Expectations, Napoleon, Bella And The Boys and the award-winning State of Play. Tom was recently seen in The Hour and comedy series Heading Out.