Alex Langlands
Alex has a passion for the past. He grew up around farming communities and rural life, nature and the countryside - and it has inspired his future.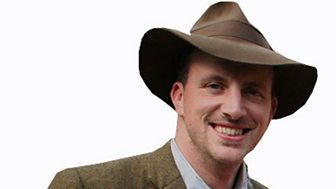 Alex turned this passion into his studies, and subsequently his career. Alex has a degree in Medieval Archaeology and an MA in World Archaeology. In 2009 he began studying for an M.Phil./PhD in Early Medieval History at the University of Winchester.
In 2005, Alex made Tales from the Green Valley with a team of fellow archaeologists and historians for BBC Two, and in 2006, Alex and the team made A Tudor Feast at Christmas. For the six-part series Victorian Farm, Alex explored the world of rural Victorian England as it would have been over 120 years ago.
In the process of setting up and running the farm, and making the programme, Alex put a number of his other skills to the test: working heavy horses, understanding crop rotations, ploughing, harrowing, sowing and harvesting - all essential to a successful year on a farm.
In 2010 Alex and the team began work on Edwardian Farm - exploring rural life at the turn of the century. The setting for the series was the glorious Tamar Valley, the boundary between Cornwall and Devon, and this location enabled the team to set out and explore the rural heritage of the south-west of England.
Alex joined Time Team in 2011 working alongside the established team as a presenter and specialist landscape archaeologist.
In January 2012, Alex took part in The Great Sport Relief Bake Off Celebrity Special and in April 2012 Alex joined a journey across Britain to discover how our landscape, history and climate shape what we grow and where we grow it in Our Food on BBC2.