Mohsin Hamid
Chooses Star Maker by Olaf Stapledon for Front Row's Cultural Exchange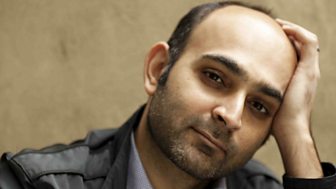 | Fact title | Fact data |
| --- | --- |
| Author | Books include The Reluctant Fundamentalist, Moth Smoke and How to Get Filthy Rich in Rising Asia |
Star Maker by Olaf Stapledon
Mohsin Hamid talks to Mark Lawson about a seminal work in the history of science fiction, Olaf Stapledon's epic Star Maker (1937), a book loved by Winston Churchill, Arthur C Clarke, and Virginia Woolf.
From the archive
Stapledon's Last and First Men
Astronomer and Sky at Night presenter Chris Lintott and music critic Neil McCormick discuss Stapledon's first novel with Harriett Gilbert.
Originally broacast on A Good Read 16 March 2012 BBC Radio 4
Photograph courtesy of Olaf Stapledon Archive, University of Liverpool Library
Reading from Star Maker

A reading from Star Maker. Plus Brian Stableford on the theme of evolution in British science fiction.
Originally broadcast on Yesterday's Tomorrows 23 Mar 1994 BBC Radio 3
Arthur C. Clarke on Olaf Stapledon
Science fiction author Arthur C. Clarke on why Olaf Stapledon is his biggest literary influence.
Originally broadcast on Time Out of Mind: Arthur C. Clarke, 17 Sep 1979 on BBC Two
War of the Welles
H. G. Wells (pictured) and Orson Welles on the infamous 1938 War of the Worlds radio broadcast, which many listeners mistook for a real alien invasion. Introduced by Brian Aldiss.
Originally broadcast on Archive Hour: Weird Science, 15 May 2004 BBC Radio 4 
Mohsin Hamid on The Reluctant Fundamentalist

Mohsin Hamid talks to James Naughtie about his bestselling novel The Reluctant Fundamentalist, which has recently been adapted into a film.
Start the Week: Mohsin Hamid talks about his latest book, How to Get Filthy Rich in Rising Asia