Tracy Horrobin
Tracy's not known for her work ethic, or her success with men.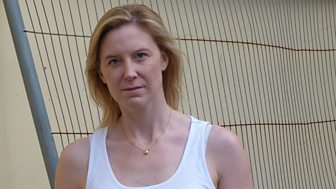 | Fact title | Fact data |
| --- | --- |
| Played by: | Susie Riddell |
| Born: | 16 July 1975 |
| Status: | Single |
| Occupation: | Various - usually not for very long |
| Lives at: | 6, The Green |
In late 2011 she left the admittedly unsuitable Den, arriving on sister Susan Carter's doorstep with children Brad and Chelsea in tow just in time for Christmas.
Neil was delighted, as you can imagine. Even more so when he found himself doing up the Horrobin home - 6, The Green - so that Tracy and her children could move in with her dad, Bert, and brother, Gary.
Not long after her return to Ambridge, Tracy's eye was drawn to cricket coach Iftikar Shah. She thought they were an item, even though they never were, and blamed their 'break-up' on the reputations of her criminal brothers Keith and Clive.
Can you put the kids to bed? Marlene wants a chat.

Tracy Horrobin
Likes - A drink, a fag, a laugh with the girls
Dislikes - Work
Highs - Persuading her dad to put her name on the tenancy agreement
Lows - When Emma shopped Tracy's brother Keith
Susie on Tracy
Tracy is pretty unforgettable! She'd brighten up any party (and would probably drink all the booze too). She loves her family and would do anything for her kids. It's just that her way of doing things might not align with everyone else's! You'd want her on your side in a fight though.
Susie Riddell
Susie Riddell's acting career began in The Archers, playing a very young Kate Aldridge from 1989-1994. In October 2011 she re-joined the cast to play a (slightly older) Tracy Horrobin!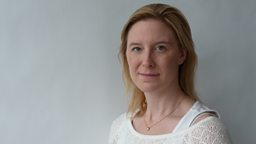 Susie grew up in Birmingham and was a member of the Central Junior Television Workshop. It was through this that she got an audition for the role of Kate. Being 11 years old and totally new to radio, and acting at all really, it was a bit of a shock when her parents told her she'd got the job!
She has an English degree from Newcastle University and trained as an actor at the Royal Welsh College of Music and Drama, where she was awarded the James Westaway Memorial Prize for Radio Acting.
Susie has been a member of the BBC Radio Drama Company twice. Productions include The History of Titus Groan, Mrs Dalloway and Ulysses. She has also recorded several audiobooks.
TV work includes roles in Gavin & Stacey, Saxondale, Emmerdale and Doctors. Susie has played a range of roles on stage including Olga in Three Sisters, Kate in The Taming of the Shrew and Viola in Twelfth Night.
She is co-artistic director of the theatre company, Idiot Child and performed in their show You're Not Doing It Right at the Tobacco Factory last year. Idiot Child's production, I Could've Been Better played at the Bristol Old Vic Studio in October 2012.
Susie sings first soprano in the City of London Choir and plays piano and trombone. She lives in Richmond with her husband Joel.
Archers highlights
I loved the scene between Tracy and Neil in Neil's van battling with helium balloons and hiding from Den. Very funny and great fun to record.
I also enjoyed the scene with the Horrobin sisters looking over old magazines and Valentine's cards. It involved Tracy saying to Susan, 'your prince came and he's in the garden digging a drainage trench' – a brilliant line!
Other career highlights
I've been lucky enough to do a very wide range of jobs as an actor. It's hard to pick! Playing Kate in a national outdoor tour of The Taming of the Shrew was such a challenge and one of the best summers I've ever had.
I have had to train myself to not get star-struck

Susie Riddell
As an actor in the BBC Radio Drama Company I've had the opportunity to work with some of the country's finest actors on lots of radio dramas. I have had to train myself to stay calm and not get star-struck!
This is also a hazard of working on The Archers. I'm getting better at keeping cool (but still gabble away in the Green Room when I'm a bit nervous).
Favourite
Actor - Katy Stephens – she is an incredible actress. I've seen her play lots of different lead roles for the RSC. She trained at the Royal Welsh College of Music and Drama (as I did) so she's a bit of a heroine of mine.
Book - The Master and Margarita by Mikhail Bulgakov. Reading this was an intense, thrilling and life-changing experience. I highly recommend it.
Film - The Muppet Christmas Carol. Honestly. A work of genius.
I'd still like to
...travel on the Trans-Siberian Railway. And be in a musical. But probably not at the same time.