Waterloo Road
Waterloo Road stars Victoria Bush, Rebecca Craven, Tommy Knight, Carl Au and Marlene Madenge are all dancing for Comic Relief!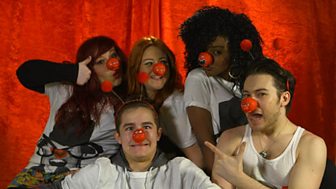 Victoria Bush is a British actress and comedian – perhaps best known for her role as Tina Purvis in prison drama Bad Girls.
She is also one half of female comedy duo Checkley & Bush – alongside Laura Checkley – who have received critical acclaim since forming in 2009.
Victoria joined the cast of Waterloo Road in 2012 as the new school secretary Sonya Donnegan.
Rebecca Craven, 21, joined the cast of Waterloo Road in 2012 as Rhiannon.
Having studied musical theatre in London, she starred as Tracy Turnblad in a local production of Hairspray.
She has has previously appeared in the film Hunky Dory with Minnie Driver and TV series Stella with Ruth Jones.
Tommy Knight, 19, is an actor perhaps best known for playing Luke Smith in Doctor Who spin-off The Sarah Jane Adventures between 2007 and 2011.
His career began in 2001 with his West End debut in the production of the Ancient Greek tragedy Medea. His subsequent stage credits include Chitty Chitty Bang Bang, The Full Monty, and Macbeth.
He joined the cast of Waterloo Road in 2012 playing Kevin Skelton, a boy who is in care.
Carl Au, 24, joined the Waterloo Road cast in 2012 and plays bad boy Barry Barry – whose onscreen mum is played by Zoe Lucker.
Carl trained in musical theatre at The Arts Educational School, London and has appeared in Jersey Boys in the West End. He has also performed at the Brit Awards as a dancer for the Pet Shop Boys.
Marlene Madenge, 20, joined Waterloo Road in 2012. She plays troubled teenager Lula Tsibi.
Marlene came to Scotland from war-torn Congo when she was 11 and her experiences mirror Lula's as she struggled to fit in to school in a new country.
Marlene performed with the National Theatre of Scotland when she was just 16.