Saz
Played by Mandeep Dhillon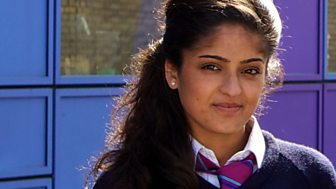 Saz often feels angry at the world. She's clever and can become frustrated and sarcastic when those around her don't match up to her expectations, though she's not always aware how offensive her scornfulness can be. Part of her really wants to fit in and be popular at school but she knows that will never happen. Deep down she feels like a misfit, and worries that no boys will ever like her.
Actress Mandeep Dhillon answered some questions about the making of the show:
What was your audition like? What did you have to do?
When I first auditioned it was at Hat Trick Offices and I auditioned for the role of Amber. I then got a recall for the same character but half way through the audition the producer came in and said "we'd like you to audition for the role of Sarah (my character's previous name)". They handed me the script and asked if I would like some time to prepare but I said "no, let's just do it"… so we did. Then I got a call saying I had the part, but, because it was only the part for the BBC read through I tried not to get too excited. It was after the second read through at the BBC that I got the phone call from my agent to say that the show was going to series. That's when it became real and they changed my character's name from Sarah to Saz, and the writer asked if she could make her Indian (and I was like "YES OF COURSE YOU CAN"). I mean I am Indian after all. Haha.
How would you sum up Saz and her friendship with the three girls?
I would sum up Saz as very sarcastic and a bit of a math swot. She says the wrong things at the wrong time but that's why her friends love her. I would also describe Saz as being socially inept. Although she is very sarcastic and can hold her own she has her vulnerable side when it comes to love and boys and fitting in. I feel her friendship with the other three girls is a very strong one The best bit about these girls is they are so different from each other but so accepting of each other which brings a really warm atmosphere to the series.
Which of the characters would you have been friends with if they'd been at your school?
I would definitely have been friends with Viva; she is so down to earth and level headed. She is a good student with dreams and goals that she will achieve.
How was it when you first met your three co-stars?
I met Alice and Natasha a good year before we started filming and at least 6 months before we got the confirmation. When I met the two girls and saw how they portrayed their characters I started to feel excited because I knew it would work. The casting directors had been so precise in casting that there was no-one else who could pull off the parts like them. Especially Alice's role Amber: playing 'dumb' is difficult and hard to pull off, but she was amazing at it and just so convincing. As people, Alice and Natasha are so far from their characters but equally lovely girls to work with and to bond with.
When I met Adelayo for the first time it was her last audition. In the audition (that Natasha and me were part of to help with the casting process), Ade shocked me by her performance and actually made me break character and laugh. I knew from then that she had something brilliant to offer. Once she got the role and rehearsals began I got to know Ade and who she is as a person. I bonded really quickly with her and so did the other girls. It was a nice feeling because the hardest thing to do is fake a friendship on camera. So it was a blessing that we all actually clicked and gelled really quickly. Ade is brilliant as Viva and again I couldn't see anyone playing that part other than her. She truly does shine and is hilarious.
Who devised those football victory dances?
Well, we all had an input. It was kind of improvised; as I scored my goal I instantly broke out into a bit of bhangra and all the girls did the same. For each and everyone's goal that person improvised their victory dance and the rest followed. The last one after we won was devised by Adelayo, it was so much fun.
What was the funniest moment in filming for you?
Funnily enough my funniest moment was when the camera wasn't actually on me it was on Dolly Wells who plays Anna. We were doing a changing room scene and for some strange reason Dolly started to randomly laugh. Then she got that out of her system but it had infected us four with the giggles. So whilst she was performing every single person she looked at throughout the scene was crying with laughter. It got to the point where I actually didn't look and closed my eyes because I found it so funny. To top it off the funniest part of that situation was that we didn't even know why we were laughing or what we were laughing at.
Did you learn anything particular from working with Colin Salmon?
Working with Colin Salmon was a blessing - as you well know he is such a talented and respected actor. He was like our father on set. If I learnt anything from Colin it was to always be grateful for what opportunities are thrown my way and to always give my all in every aspect of life. Colin said that he found working with us very refreshing and that we were teaching HIM new things every day. It was a pleasure to work with him and a pleasure to get to know him as a person.