Little Mo Mitchell
Timid Little Mo could not have been more different from the wayward, wheeler-dealer grandmother that she was named after. With a big heart, she was also one of Walford's most legendary victims.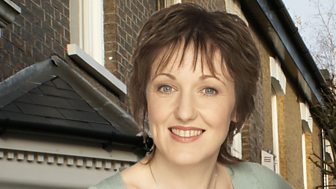 | Fact title | Fact data |
| --- | --- |
| First appearance: | 18th September 2000 |
| Last appearance: | 26th May 2006 |
| Occupation: | Café worker |
Unfortunately for trusting Mo, she fell for Trevor Morgan, a wife-beating psychopathic rapist. He physically and mentally abused her, manipulating her so she felt she couldn't leave. It shouldn't happen to anyone - but Mo, for reasons of her own, kept going back to him, for whatever punishment he dished out.
Oh no, don't worry about me.

Little Mo Mitchell
Finally, it all got too much for her, and she attempted to flatten him with an iron. But, far from liberating her, this just landed Little Mo in prison.
She found some respite in the arms of the newly-reformed Billy Mitchell. But like nearly all Walford love stories it was short-lived. Tragically, another rapist was lurking just round the corner in shape of Charlie's dart-playing buddy, Graham Foster. He assaulted Mo and she was shocked to discover that she was pregnant.
Unable to terminate the pregnancy, she and Billy tried to make a go of it, but Billy was haunted by what had happened and they split. After a brief fling with her sister's husband, Alfie, Little Mo and baby Freddie left the Square for a better life...
Played by Kacey Ainsworth