Les Coker
Not only will Les bury your loved one, he'll bury your secrets too… for the right price.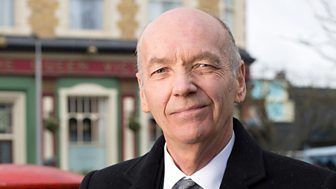 | Fact title | Fact data |
| --- | --- |
| First appearance | 9th January 2012 |
| Last appearance | 14th October 2016 |
| Address | 53A Turpin Road |
| Occupation | Funeral Director |
Les Coker is Albert Square's new undertaker. On the surface he's a kind, charismatic charmer - but there's a hint of something more sinister lying underneath. Partial to a dodgy deal or two, one of his biggest downfalls is his greed. Despite this, Les is a true skinflint!
Having been pulled into the family business by his father, Les married his first love, Pam, and after nearly 50 years together they've developed an unbreakable bond.
Les would never admit it, but he likes a bit of a gossip. So it's a good thing he's married to Pam, the nosiest lady in London.
Played by Roger Sloman