Kelly-Marie Adams
Like her mother Scarlett, Kelly-Marie is a survivor.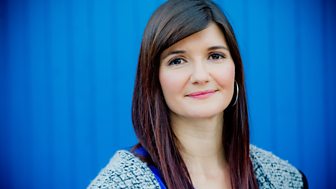 She's also a bit of a dreamer and a born romantic. She lets her heart rule her head and has a track record of ill-fated relationships, often leaving her the injured party.
For a long time, Kelly-Marie held on to the romantic ideal of true love, and felt sure she had found this in Father Michael Royston – a good-looking older man and local priest.
After a torturous conflict between faith and desire, Michael chose to leave the church to be with Kelly-Marie. She left Shieldinch with Michael to start a new life in Peru but on a return visit home fell into the arms of Lenny Murdoch's son, Ewan.
Lenny was less-than-impressed with Ewan's choice, making his son choose between family and Kelly-Marie. Ewan rejected a heart-broken Kelly-Marie who ran back to Michael in Peru but that relationship floundered.
Kelly-Marie returned to Shieldinch accompanied by her young son, Callum. Scarlett was shocked to discover he was the product of her fling with Ewan Murdoch and they tried – but failed - to keep this from Lenny.
Against her mother's wishes, Kelly-Marie eventually let Lenny into Callum's life. That was until Callum was kidnapped for ransom – the victim of Lenny's criminal connections.
With her focus firmly on Callum, Kelly-Marie wasn't looking for love until Alex McAllister caught her eye. What started off as a bit of harmless fun between the pair has grown but will her past heartbreak overshadow future happiness?
Carmen Pieraccini
Carmen plays Kelly-Marie Adams in River City.
Joined River City – 2003
From - Paisley
Star Sign - Aries
Loves - Looking up at a starry night, walking in nature and eating Tunnocks tea cakes
Loathes - People who drop litter
TV Treat - Luther