Flora Marshall (VAD)
Flora is somewhat naïve to the world but as the youngest member of the staff she is determined to prove her worth.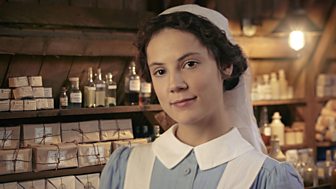 Others are quick to dismiss Flora as flighty and immature yet there is a steely resolve within her. She will work hard to earn the respect of those around her, in particular Peter who finds a kindred spirit in Flora.
Even when facing adversity and the horrors of war, Flora gives all of herself to the job, using every ounce of love at her disposal. She simply refuses to down tools, even when utterly exhausted.
Flora is the youngest (perhaps too young in many people's eyes), but she's a favourite on the wards and she will fight a daily battle to prove that she deserves her place in the hospital.
Alice St Clair
Alice's previous credits include the feature films Before I Sleep, Sarah's Key and for television William and Catherine - A Royal Romance. Most recently she was seen on stage in Overruled at The Old Red Lion and appeared in The Dark at the Oliver Theatre.