Kat: Twenty-Something in Journalism
Get all the inside info on climbing the ladder from journalist Kat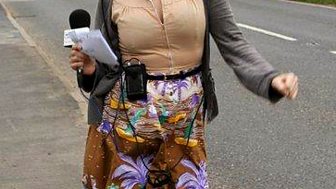 Did you always want to work in journalism?
Question everything. The people who ask the tough questions get the best stories

Kat
Not consciously. I knew I was nosey and interested in people – but I had no idea how I could turn that into a career. It wasn't until I went to university that I stumbled across student media and loved it! I left uni, did a ski season, temped for a while whilst trying to break into radio - until a kindly journalist took pity on me. She sat me down and told me my best bet was to do a post graduate qualification in journalism. So that's what I did!
What do you love most about what you do?
The sheer variety. I produce The Mark Forrest Show which is broadcast across all 39 BBC local radio stations each week night. We have the pick of a huge range of stories from across the country – from the bizarre to the touching to the hard hitting. We can choose the stories we think will resonate with our audience, and take them in a different, sometimes unexpected, direction. I still moonlight as a reporter from time to time, and love the buzz of live radio. I love talking to people, being the first to hear what's happening and speaking to fascinating people.
What did you enjoy most when you were at school?
Chatting and having fun mostly! English was always my favourite subject – I've always loved reading and writing.
Did you go to uni?
Yep, to the University of Birmingham to study English Literature, Language and Drama and then a few years later to Leeds Trinity and All Saints for a post graduate diploma in Journalism. I loved both courses, but at Leeds the course really prepared me for life in a newsroom, and it was there I got the bug for journalism.
What was your first job in journalism and how did you get it?
It's going to sound really jammy, but my first paid work was for Radio 4. I was with the team who produce Woman's Hour, You and Yours and Pick of the Week in Manchester on a placement, and when I overheard the boss talking about Christmas shifts I volunteered my services. I was lucky enough to be paid as a broadcast assistant for three months. I vividly remember one day walking down the corridor and having a moment of 'I can't believe this is happening!' From there I went to BBC Radio Lincolnshire as a reporter, then to BBC Radio York as a district reporter.
If you could give any advice to yourself when you were a teenager what would you say?
Don't try and dye your hair blonde – it will NEVER work. Oh, and maybe spend a bit more time revising for your A levels. Although that said, missing out on my first choice of university taught me a valuable life lesson – you have to work hard for what you want.
What's the most important thing you've learnt during your career so far?
Be nice! Genuinely that is the most important thing. Be friendly to colleagues, to interviewees, to current and potential bosses. People are much more likely to employ, help, or remember people they want to talk to and work with. Offer to make the tea, answer the phones, work the weekends and over Christmas. After you're in the door, I would then say question everything . The people who ask the tough questions get the best stories. Don't be afraid to be a bit cheeky – I once emailed Moira Stewart, Kathy Clugston (PR4L) and Evan Davis for advice. Moira and Kathy wrote back and Evan rang me. I couldn't believe it and it gave me a real boost. (I've still got the emails too!)
What are the three qualities someone who wants to work in journalism should have?
An enquiring mind. The ability not to take no for an answer. Enthusiasm – no one wants to work with an energy drainer.
Which websites/resources are musts for any aspiring comedian or comedy writer?
I know that plenty of others would recommend various news and politics websites – and yes, they are important, but I found that following my own interests has always brought a different angle to stories. I love 'real life' stories and documentaries, the Magazine section of the BBC news website, the Family section of the Guardian, You Magazine from the Daily Mail – you'll read them, and months later when you're searching for inspiration you'll remember something you've read and ta daa – a brand new story is born.
What's New At The Academy?
Craig and his manager Colin share their tips for aspiring musicians.

Turn your posts into pounds with advice from some of the biggest profiles in the world