Dedicated Follower of Fashion
Music Hall meets the Swinging Sixties!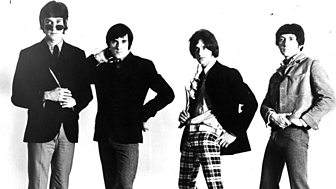 | Fact title | Fact data |
| --- | --- |
| First released: | 25th February 1966 |
| Written by: | Ray Davies |
| First recorded by: | The Kinks |
| Cover versions by: | Rolf Harris, The Scarlets, Bolivian Sunshine Dogs, 3 Normal Beatles |
Synopsis
'Dedicated Follower of Fashion' demonstrates the great British propensity for both celebrating and mocking our own culture. Bashed out on a typewriter in one sitting, Ray Davies' jaunty ditty pokes fun at the burgeoning world of Swinging Sixties London, yet he's writing from the point of view of someone who was, at least for a while, at that world's very epicenter. Just take a look at any picture of the band taken between 1964 and 1966 and you'll see a bunch of North London lads decked out in 'Carnabetian' gear (to paraphrase Ray, himself) that sears the eyeballs and overwhelms with frill and ruffs.
Oh yes he is!

Dedicated Follower of Fashion
But then, Ray Davies was always one for biting the hand which fed him. And while the Kinks may have started out as top 10 scenesters whose punky, staccato bursts of pop genius epitomized the mid-60s rave-up, by the time 'Dedicated Follower…' was released they'd begun to vastly broaden their pallet to include far more than just r 'n' b. By now Ray was drawing on his childhood in Muswell Hill, where his music-loving parents had given him a love for music hall. Just listen to that 'Oh yes he is…' call and response in the chorus.
And, more significantly, while it was a hit in the UK, 'Dedicated Follower…' barely troubled the top 100 in the US. This can be attributed to two facts. One: that Americans wouldn't ever understand the traditions that The Kinks were drawing on here. And two: that Americans could never understand our long held ability to satirise ourselves. Remember that London in 1966 wasn't the sprawling cultural behemoth it's become in the 21st century. It may have been our capital city, but to the vast majority of British people the regular news stories about Mary Quant, Jean Shrimpton, Twiggy, David Bailey and the fashionistas of Carnaby Street were like messages beamed from another planet.
This makes 'Dedicated Follower…' a perfect entry for The People's Songs: because it sums up perfectly our national sense of proportion, matched effortlessly by Ray's peerless sense of humour. Oh yes it does…