Debbie Aldridge
Debbie's a woman who likes to get what she wants.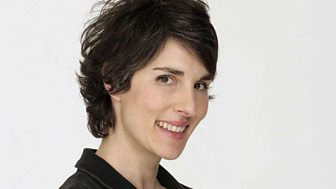 | Fact title | Fact data |
| --- | --- |
| Played by: | Tamsin Greig |
| Born: | 24 December 1970 |
| Status: | Divorced |
| Occupation: | Farm Manager |
| Lives in: | Hungary |
Unlucky in love first time around, her marriage to lecturer Simon Gerrard was shortlived. She sought solace in her work, becoming the shining light and advocate for her father's business. She's based in Hungary, running a very large dairy and arable farm for a consortium. She also managed at a distance the Berrow Estate for Borchester Land - until Novemeber 2014, when they sacked her.
Accused by Adam of being Brian's favourite, her decisions regarding the Estate have not always been popular. For a while, the birth of Ruairi brought her closer to her brother - until she proposed a mega-dairy which threatened the future of Adam's livestock enterprises.
Debbie once had a serious relationship with a fellow farm manager in Hungary, Marshall Latham. But it didn't last. Brian was suspicious of Marshall anyway. He made cakes.
Let me do the talking, Dad.

Debbie Aldridge
Likes - Good wine, good company, travel
Dislikes - Being seen as the favourite, her father's infidelity
Highs - Being put in charge of managing the Estate land
Lows - Discovering Brian's affair; her acrimonious divorce, being sacked from the Estate job
Tamsin Greig
Tamsin was born in Kent in 1966 and describes herself as having been the temperamental and noisy middle child of an expressive mother and a much older father. She took part in numerous school plays so it seemed logical to continue her interest in drama by studying the subject at the University of Birmingham - which was just across the road from the BBC studios where The Archers was recorded.
Upon graduating, Tamsin's first job was for the Family Planning Association - "I used to know everything about contraception!" She then worked at the Midland Art Centre's Children's Theatre and, after 115 performances of the same show, got her Equity Card and consequently more offers of work.
Tamsin describes her offer of the role as Debbie in The Archers as "coming completely out of the blue" in 1991. She is still amazed by her good fortune, especially as the Archers production team has been so flexible and created the 'Hungary' option.
Tamsin has undertaken theatre roles, voice-over, television and film work. Television includes BBC productions Happiness (with Paul Whitehouse), People Like Us and The World Of Pub; Channel 4's comedy series Black Books; HTV's Wycliffe and LWT's Blind Men. She has filmed Miranda and Pure and has narrated for the National Geographic, History and BBC Natural History channels.
Other TV work includes: Green Wing (Channel 4); The Lenny Henry Show; Love Soup; When I'm 64 (a television film for the BBC); and Episodes, with Matt le Blanc (Joey from Friends).
Films include "Shaun Of The Dead"; and "Cheese Makes You Dream".
Tamsin lives in London with her husband and actor Rick Leaf, whom she met while working on a television series, Neverwhere, for the BBC. They have three children and enjoy going to the park.
Debbie being the one to find out first about Brian and Siobhan and then confronting Brian. They were great scenes to play - beautifully written, well directed and great fun to shout with such abandon at Charles Collingwood.
It was like being paid to have a laugh.

Tamsin Greig
Working with Dylan Moran and Bill Bailey on Black Books - it was like being paid to have a laugh. Working on Green Wing - it was like being paid to have a strange walk and cut people up. Working at the RSC on Much Ado About Nothing - an absolute privilege.
Tamsin on Debbie
Debbie Aldridge is the sharp-witted, independent, farmer business-woman, step-daughter of a wealthy capitalist farmer philanderer. She likes to ride her horse, her life and her family with expert control.
Favourite
Actor - Judi Dench - she combines an extraordinary gift for thoughtfulness with a vulnerable lightness of touch, with not a small sense of humour.
Book - A Prayer For Owen Meany by John Irving. A beautiful tale of an extraordinary character who you cannot help loving.
Film - Fargo by the Coen Brothers. Hilarious and heart-breaking.