Bruno Tonioli
Bruno Tonioli is without a doubt Strictly's most flamboyant judge, living and breathing dance.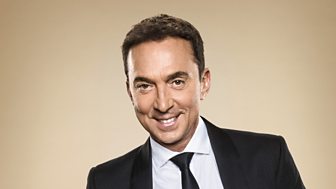 Bruno has worked with some of the biggest and best names in the industry such as Elton John, Michael Jackson, Freddie Mercury, Tina Turner and Paul McCartney. He now splits his time between London and Los Angeles to record both Strictly Come Dancing and Dancing With The Stars.
A deflated balloon would have had more rhythm..!

Bruno Tonioli
Bruno grew up in Ferrara, a small Catholic town in north eastern Italy. When the musical Cabaret came out in 1972, Bruno saw it eight times in a row! It was then when he realised what he wanted to do. However, his parents had other ideas and wanted him to work in a bank but despite their wishes Bruno went to Rome and started ballet lessons.
Bruno left Italy at the age of 18 and after two years with the Paris-based dance company La Grande Eugene, Bruno performed in London and decided to make the city his home.
He worked as a freelance dancer and even appeared in Elton John's music video for I'm Still Standing. Bruno eventually made the move over from dance to choreography when he went to work on legendary TV show Not The Nine O'Clock News.