Darren Miller
From Mo Harris's protégé in the black market trade, to suited and booted, kosher car salesman, Darren Miller was Walford's heir to Alan Sugar's crown...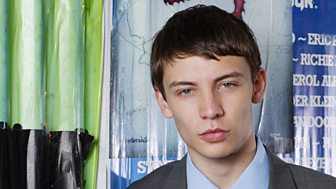 | Fact title | Fact data |
| --- | --- |
| First appearance: | 6th September 2004 |
| Last appearance: | 20th September 2011 |
| Occupation: | Car Salesman |
With his career going from strength to strength, and a steady girlfriend - Oxford student, Libby Fox, it seemed like Darren had really shaken loose from his chaotic, under-achieving family.
It wasn't my fault, honest.

Darren Miller
Then he discovered that Heather was pregnant after a misguided dalliance, and was going to have a child - and Libby left him.
However, George turned out to be one of the best things that had ever happened to Darren. And when he found love with the lovely Jodie Gold, things began to look a bit more pukka.
But short of cash for the wedding, Darren started to skim money from the car lot and then slept with Lauren Branning. Jodie forgave him, but on the wedding day he revealed that he was not worthy of her and drove away in their wedding car for a new life.
When Heather was murdered in 2012, Darren was on his travels when he was informed of her untimely death. George was soon sent to live with Darren.
Played by Charlie G Hawkins
Find out more about Darren's Walford connections and play quizzes and games in our family tree.