Anna Westin
Anna is a troubled, lonely girl whose only solace is her religion.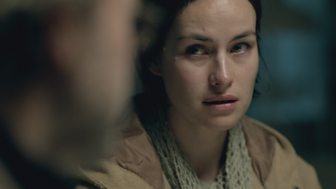 She was heartbroken at the death of her father ten years ago, and has spent the intervening time trying to look for replacements for him.
What do you believe in? Do you actually believe in anything?!

Anna
She no longer speaks to her mother, and has almost no-one she can turn to when things go wrong.
One of her only abiding relationships is with Linda, Kurt's daughter.
She's easily led into dangerous situations, but as Wallander spends more time with her, he realises that she has a much stronger will and deeper convictions than he thought.
Maimie McCoy
Maimie McCoy, from North Yorkshire, UK, has appeared in several British drama series, including ITV1 thriller Without You, Taggart, and the BBC's Doctors and Casualty (Source: Internet Movie Database).