Jack Halford
Jack Halford retired from the force when his beloved wife Mary died following a hit and run accident. And while he welcomed the opportunity to join UCOS, he is still haunted by Mary's death and the fact that no one was ever charged.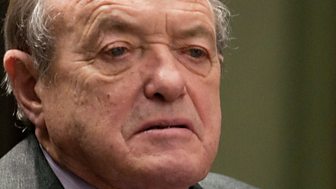 | Fact title | Fact data |
| --- | --- |
| Job title | Ex Detective Chief Superintendent; Member of UCOS |
| Played by | James Bolam |
For the most part, Halford just gets on with the job but there are occasions when he is deeply affected by his late wife's death, especially when he finds himself on a case that opens up a lot of memories. Jack still talks to his wife, discussing cases with her. He reveals more about himself when he's talking to Mary, than he does with anyone else.
"Jack still talks to his wife... he is deeply affected by her death"
James Bolam
Since making his name as loveable rogue Terry in The Likely Lads, James Bolam's rarely been off our screens. He's appeared in comedies such as Only When I Laugh and Second Thoughts as well as a string of hit TV dramas.
James starred as Terry Collier in the 1960s sitcom The Likely Lads, alongside Rodney Bewes who played Bob Ferris. The duo returned to even greater popularity in the 1970s with Whatever Happened To The Likely Lads?. They also appeared in a film version of the show in 1976.
Since then, he's had success in both comedy and drama, with credits including Only When I Laugh, The Beiderbecke Affair and Second Thoughts. He's also starred alongside Bill Nighy in the BBC adaptation of Anthony Trollope's He Knew He Was Right.
James has found a new audience with Grandpa In my Pocket, CBeebies first ever comedy drama for pre-schoolers, and one of its most succesful programmes of recent times.
His other credits include Born and Bred, Bedtime, and Shipman, the controversial drama about the serial killer in which he played the title role.
James also previously worked with Born and Bred writer Chris Chibnall on the TV monologue Stormin' Norman. He played a London tube driver, reflecting on his career on the last day before he retires.
In 2000, he guest starred in a new audio adventure of the cult sci-fi series Doctor Who, called The Spectre of Lanyon Moor, he played Sir Archibald Flint with Colin Baker as The Doctor.