Rose Cotton
Unlike her God-fearing half sister, Dot, Rose is an irrepressible flirt. She's always last to leave a party (and usually first to arrive).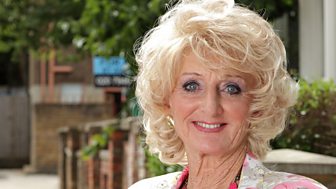 | Fact title | Fact data |
| --- | --- |
| First appearance: | 22nd August 2011 |
| Last appearance: | 19th July 2012 |
| Occupation: | Butcher's Joints Cleaner |
Rose hasn't got a bad bone in her body. She has a child-like innocence to her. She loves being naughty but she's never wicked or spiteful. No matter what scrap she gets in she'll slap on a smile. In spite of everything that's happened to her, Rose is a survivor.
Never explain, never complain

Rose Cotton
Health issues: Had a hysterectomy
Favourite music: Gloria Gaynor and Barry Manilow
Style: Inappropriately sexy
Habits: Picks varnish off her nails
Usual drink: Gin & It
Rose's mother used to refer to her as her little princess. She was Margaret, carefree and always laughing while Dot was Elizabeth, serious and responsible. Rose was the favoured blonde, pretty child. Nevertheless, Rose admired Dot.
On the surface, Rose has had an easy life, but scratch the surface and you'll see a woman who has always been in debt and on the run. Alas, the wonders of Walford were not enough to make Rose settle down.
Polly Perkins
Polly started her career performing at the Windmill Theatre in Soho. Her theatre credits include Blood Bothers, High Society and Cabaret.
Prior to EastEnders, Polly is perhaps best know to TV viewers for her role as Trish Valentine in the shot-lived BBC soap Eldorado.