Steve Owen
Handsome, suave and impeccably dressed, Steve Owen was the most dapper of the Square's bad boys.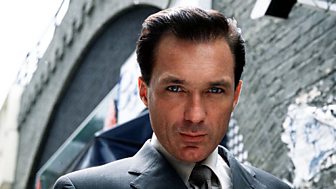 | Fact title | Fact data |
| --- | --- |
| First appearance: | 28th December 1998 |
| Last appearance: | 1st March 2002 (Deceased) |
| Occupation: | Businessman |
The self-styled gangster strutted around E20 oozing self-confidence and charm. The ladies loved him and the men envied his devilish good looks.
I want to see the readies upfront.

Steve Owen
Life in Walford is rarely quiet, but it was even less so with Steve in it. Vengeful girlfriend Saskia Duncan was disposed of, his accomplice, Matthew Rose, went down for Steve's crime, drug addiction followed, and then he became a suspect in Phil Mitchell's attempted shooting. Yes, fires, robberies and dodgy business deals were just part of everyday life for hardman Steve.
Poor old Steve literally left Walford with a bang in a violent explosion with arch-enemy Phil Mitchell. His funeral wreaths revealed the truth of his standing in the community, one of them reading "Dear Steve – rot in hell".
Grieving wife Mel was left behind… to discover that Steve had been having an affair and had framed her for drug smuggling. Fortunately, she'd picked up enough survival tips from their marriage to sidestep the law. She skipped town, with Phil Mitchell's bail money, winding up in sunny Portugal.
Played by Martin Kemp