will.i.am
will i am is a performer, music producer, creative innovator, technologist and social entrepreneur.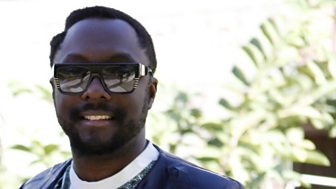 He first rose to fame as a member of The Black Eyed Peas, who have sold over thirty million albums and fifty eight million singles worldwide. As a producer he has worked with some of the biggest names in pop including Michael Jackson, Britney Spears, Rihanna, Usher, David Guetta and Nicki Minaj.
In 2012 will became the first recording artist to send a song to the planet Mars when his 'Reach for the Stars (Mars Edition)' was played from NASA's Curiosity Mars Space Lab.
During the 2008 American presidential campaign, will's song putting the words of candidate Barack Obama to music called 'Yes We Can' was credited with having a major impact on younger voters, and the video went viral online.
In Britain, will is a coach on The Voice UK, and he is about to take a similar role on The Voice Australia in 2014.
will grew up in a social housing project in the Boyle Heights district of East Los Angeles, where he was brought up by his mother. He travelled across the city daily to be educated at a high school in Brentwood as part of the Magnet program for gifted students, and credits his exposure to this kind of education as life-changing. He is now a passionate advocate for education, in particular in skills to prepare students for a technological future – science, technology, engineering and maths.
His i.am angel foundation promotes the importance of a good education, and the i.am scholarship provides future innovators with financial assistance for college. The foundation is also active in the UK through an education and computer skills joint initiative with The Prince's Trust.
In 2013 will embarked on his first musical tour as a solo artist, and at the same time put the finishing touches to his own new centre in East LA devoted to creative innovation called 'The Future', which includes space for computer programmers, music and media producers, and devisers of new technology.