How to Get Tickets
BBC Radio 1Xtra Live in Glasgow takes place at the Riverside Museum in Glasgow on Saturday 17 May 2014.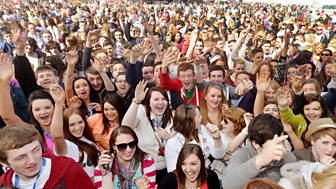 The ticket booking process will be the same as that used for the two Radio 1 Big Weekend events in the city and be handled by See Tickets, working on behalf of 1Xtra and the BBC. See Tickets look after the ticketing for major festivals including Glastonbury, as well as many other large events.
We have 2,000 pairs of tickets to give away from 7.30pm on Saturday 26 April, but we expect demand will massively exceed supply and that these tickets will go very quickly. You need to be 16 or over to attend the event and we will request ID at the entrance.
We will post regular updates to alert you when tickets sell out for any particular area via 1Xtra's Facebook page and our Twitter feed @1xtra
Tickets will be available by phone; however we strongly recommend booking online via this site if possible – our online system is able to handle far more simultaneous transactions. You do not need to register for the event in advance.
BOOKING BY PHONE
BBC Radio 1Xtra Live in Glasgow
The booking line number will be 0844 873 7357 – please note this number will not be answered before 7.30pm on Saturday 26 April but you will still be charged for calls.
If you plan to try and call, we recommend using a landline. Calls cost 6p per minute, plus standard network rates. These vary and can be significantly higher for mobiles. If all operators are busy, a limited number of people will be placed in a queue, with the rest hearing an engaged tone. Call charges will still apply whilst on hold. In times of highest demand, phone operators and / or networks may be unable to connect your call due to line congestion and may play you a recorded message telling you this – again a charge may apply for this.
Note that online applications are NOT treated in the same way as 'queues' in shops. To try and guard against systems crashing, only a limited number of people will be allowed to enter the booking process at any one time.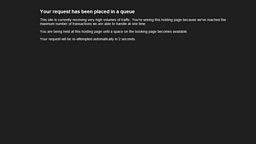 We expect thousands to try and gain access as soon as the booking page is made available and most will initially see this page.
As more space becomes available it is allocated randomly amongst those trying to access the system at the time. This can mean people trying from the moment booking opens may fail to get through; while someone coming along 15 minutes later gets lucky and is able to start the booking process straight away.
The holding page will automatically refresh, or you can do this manually. If you have multiple browser windows open however, please take care as one page refreshing might affect what happens to other pages and could potentially cause them to crash.
If you do get through to the booking pages, this is the first screen you'll see: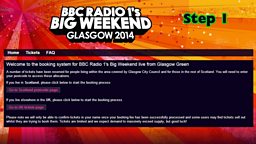 Please choose the area you live in.
If you are in Glasgow or the rest of Scotland you will be asked to enter your postcode on the next page, so make sure you have it ready and take care when entering it – especially if it contains 0 or O.
You will see a page like this.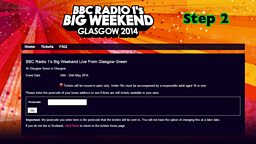 If you live outside Scotland you will not need to enter a postcode.
Next you will then see a page that allows you to pick the day you'd like to go, subject to availability.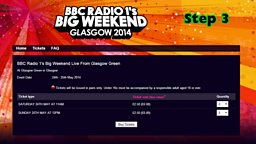 Tickets will be allocated in pairs and you can only apply for one day at a time.
Tickets will be divided into three 'pots': 70% of tickets will be reserved for those living within the area covered by Glasgow City Council; 25% will be reserved for those resident in the rest of Scotland; with the remaining 5% available to the rest of the UK. It is possible all tickets for your area will go, but – if tickets remain available for those in other areas – the booking process will remain open for others.
You will then be taken to a page where you can enter your payment details.
Payments can be made by credit or debit card. We accept Visa, Delta, MasterCard, JCB, Electron, Switch and Solo cards. We regret that we do not accept American Express or Diners Club cards. We cannot accept payments by cash, cheque or postal order. Friends or family may book on your behalf if you do not have a credit or debit card.
Note: Your tickets will only be confirmed once payment of the booking fee has been successfully completed.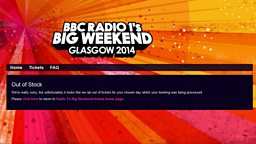 In some cases, tickets will sell out between the time that you start trying to book and the time your payment is submitted for processing. If this is the case, you will see this screen.
We appreciate this is frustrating, but we are unable to avoid this unfortunately. 
If you are successful, a confirmation number will be given on-screen. Please ensure you write this number down in case you need to contact us.
We will also send an email to the address you give during booking. Please enter your email address carefully - each year dozens of people make an error when giving us their address and their emails fail to arrive.
GOOD LUCK!