Telstar
Joe Meek's legendary production allowed the British public to hear a whole new world!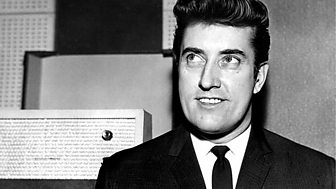 | Fact title | Fact data |
| --- | --- |
| Released: | 17th August 1962 |
| Written by: | Joe Meek |
| First recorded by: | The Tornados |
| Also recorded by: | The Ventures, The Spotnicks |
Synopsis
The legends surrounding both 'Telstar' and its creator, Joe Meek, often serve to obscure what is a wonderfully odd little tune. Driven by a small proto-electronic keyboard known as a Clavioline, and opening with the sound of what sounds like the radio signals beaming in from another galaxy, its combination of optimism and strangeness remains utterly unique.
At the time that it was a hit, Britain was in love with the final frontier of space. America had announced its intention to put a man on the moon, Russia has launched the space race by putting Yuri Gagarin in orbit and in July of 1962 a combination of communications and space agencies (including Britain's GPO) had managed to launch the world's first communications satellite allowing the very first transatlantic TV broadcast.
And no one was more in love with this brave new world than George 'Joe' Meek, a recording engineer who'd produced many hits for big labels. By '62 he'd already moved into his own home studio at 304 Holloway Road, Islington, and had a hit with John Leyton ('Johnny Remember Me'). Joe's three passions included spiritualism, electronics and outer space, and somehow his productions managed to cram all these things into one idiosyncratic package.
With house band, The Tornados (led by session legend Clem Cattini on drums), Meek recorded his tribute to the satellite and achieved both a UK and US number one. In fact, it was only the second instrumental to ever reach the top spot in the US. Unfortunately this high point in Meek's career was to be short-lived. Not only had the hits dried up by the mid-sixties, but any royalties from the smash were withheld due to a plagiarism claim. The claim was only settled (in Meek's favour) a couple of week's following his suicide in 1967.
Held up as the epitome of Meek's unique style, as well as a vision of a wonderful technological future for the British Empire, it now seems slightly quaint while perfectly encapsulating the Boy's Own spirit that pervaded the country at the time.
Few come close to replicating Joe Meek's otherworldly original!