Professor Alice Roberts
Professor Alice Roberts is an anatomist, physical anthropologist, broadcaster and science author. In 2012 she was appointed Professor of Public Engagement in Science at the University of Birmingham.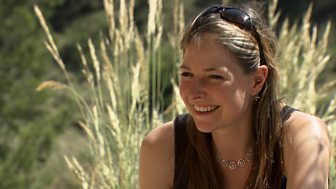 After studying anatomy and medicine at Cardiff University she worked as a doctor, and then as an anatomy lecturer at the University of Bristol, where she undertook research in physical anthropology. Investigating what ancient skeletons tell us about the evolution of humans, diversity of the species and ancient diseases, she achieved a PhD in palaeopathology.
Alice now runs anatomy courses for trainee surgeons as Director of Anatomy for the NHS Severn Deanery School of Surgery, and is also an honorary fellow of Hull York Medical School and Bristol University's Department of Archaeology and Anthropology.
On television, Alice has used her expertise in anthropology and anatomy to present Secrets from the Ice, Origins of Us, The Incredible Human Journey, Don't Die Young, Digging for Britain, a Horizon documentary on human evolution, and How to Build a Dinosaur. She has also presented Coast and Wild Swimming, after beginning her television career as a human bone specialist on Channel 4's Time Team in 2001.
Alice was the editor in chief of the recently published Evolution: The Human Story (Dorling Kindersley). She was also consultant editor and chief contributor to The Complete Human Body anatomy book, and has also written and illustrated The Incredible Human Journey and Don't Die Young. She supports public engagement with science as a Member of the Advisory Panel for the Cheltenham Science Festival, and enjoys giving public lectures.