Susy
The Paradise's newest and most effervescent shop assistant.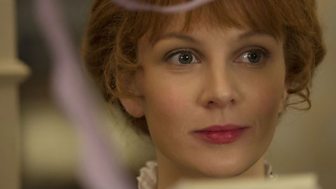 Susy is a sweet-hearted, innocent girl with a healthy love of food. Having experienced hard times in her life she is eternally grateful for her position at the store and the close friends she has made. Susy's naivety can sometimes cause trouble but she is determined to make things right and learn from her mistakes. Often at the centre of practical jokes, Susy isn't afraid to laugh at herself.
Katie Moore
Katie's television credits include such titles as Merlin, Misfits and Doc Martin. Katie also recently starred in the west end show Swallows and Amazons and played the lead in Salad Days.