Blue tits
One of our most common garden birds and always a Springwatch favourite.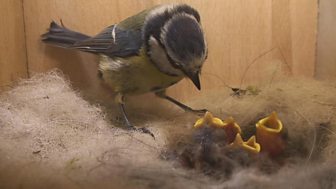 These blue tit parents have got a lot of mouths to feed. The family are living in one of the nest boxes on a pine tree, which we've set up in an area known as West Spinney in the Ynys-Hir reserve. The next box is specially adapted to take our cameras and gives us a particularly good view of this family's first few weeks.
We had placed these camera adapted nest boxes in this area in the hope that redstarts may nest there, but blue tits, ever the opportunists, have jumped in first.