Georgia: Nino Surguladze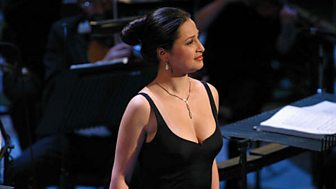 BBC Cardiff Singer of the World and Song Prize competitor
Nino was born in Tbilisi and originally studied TV journalism and art there. She also participated in popular musical projects, winning first prize in a Georgian pop song contest and acting in many films.
In 1995 Nino began her studies at the V. Saradgishvili State Conservatoire in Tbilisi and in 2000 won first prize in the Toulouse Vocal Competition and several prizes in the 2001 Francisco Viñas Competition in Barcelona.
Nino was a member of the Young Singers Academy at La Scala, Milan, where she performed Cuniza Oberto, conte di San Bonifacio and Zulma Litaliana in Algeri.
Plans following the competition included Luigi in Donizetti's Ugo, conte di Parigi for La Scala, Polinesso Ariodante in Frankfurt and Maddalena Rigoletto in Barcelona.
Her hobbies include reading and sculpture.
Singer of the World with Orchestra Concert 4 repertoire
Bizet: Quand je vous aimerai?...L'amour est un oiseau, Carmen
Verdi: Nei giardin del bello, Don Carlo
Verdi: Un giorno dolce nel core, Oberto, conte di San Bonifacio
Rosenblatt Recital Song Prize Concert 2 repertoire
Beethoven: Adelaide, Op 46
Schumann: Aus den hebräischen Gesängen, Myrten Op 25 No 15
Brahms: Immer leiser wird mein Schlummer, 5 Songs Op 105 No 2
Massenet: Crepuscule
Rachmaninov: In the Silence of the Night, 6 Songs Op 4 No 3
Glinka: Travelling Song, Opus Proschanie S Peterburgom No 6