Christine Barford
'Auntie Chris' has had more than her share of trauma over the years.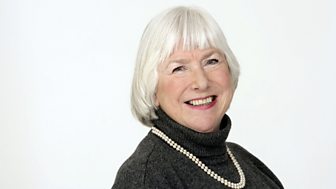 | Fact title | Fact data |
| --- | --- |
| Played by: | Lesley Saweard |
| Born: | 21 December 1931 |
| Status: | Widow |
| Occupation: | Retired stables owner / riding instructor |
| Lives at: | The Lodge |
She was subjected to horrific treatment at the hands of Clive Horrobin before the sudden death of her husband George put paid to their dream of retirement in a newly-built house.
Christine has remained stoical throughout, despite having to give up her beloved Stables and the riding she adored due to a persistent back problem.
Blessed back's playing up again.

Christine Barford
Likes - Gardening, baking, crosswords
Dislikes - Not being able to ride
Highs - Finding enduring happiness with George
Lows - Being held hostage at gunpoint by Clive Horrobin
Immediate family
Peter Johnson (Son) - He travels a lot as the administrator of an orchestra
Jill Archer (Sister-in-law)
Peggy Woolley (Sister-in-law)
Key relationships
Jim Lloyd (Friend) - They frequently share a cheese scone and the cryptic crossword
Lesley Saweard
Lesley Saweard was trained in elocution and drama but as she lived near a small market town in Lincolnshire had never thought of becoming a professional actress. She taught and appeared in the local amateur dramatic society 'Playgoers', with whom she played Portia in The Merchant of Venice.
In 1953 when she was nineteen she was asked to fetch Denis Folwell, who played Jack in The Archers, from Lincoln station; he was opening a fete for a local charity. He remarked on how similar her voice was to that of Pamela Mant, who was at that time playing Christine. She replied jokingly "let me know if she's ill"!
Soon after that, Pamela left rather suddenly and at Denis's suggestion Lesley was called for audition, along with twenty others. She was pronounced a perfect voice match and the change in actress went unnoticed.
To go from provincial schoolteacher to acting in the most famous radio serial in the world made her incredibly nervous, but she coped and settled in to her new life.
In 1954 an actor called Geoffrey Lewis joined the cast, playing the irascible Dr Cavendish. Lesley and Geoffrey fell in love and married in 1956. They had a son and a daughter and remained happily married until Geoffrey died in 1997.
Lesley left London and returned to her native Louth. She has lived there ever since, in a small village a bit like Ambridge. In fact a farmer who lives nearby reminds her very much of Joe Grundy!
Archers highlights
Representing The Archers at a Women's Institute AGM and being applauded by the entire Albert Hall.
Being presented to Prince Charles and reminding him of the name of his house in the Isles of Scilly – he couldn't remember it!
After the recording of Grace Archer's death, one reporter who came into the studio trying to phone in her story on the prop telephone!
Other career highlights
Playing many different voices and accents; I once played an old boiler and I don't mean a chicken…
Lesley on Christine
Christine is a likeable, reliable, capable person, very like her mother Doris. Sadly she doesn't see much of her son Peter, but I'm sure she is a good mother.
Favourite
Actor - Dame Judi Dench
Book - The Little White Horse by Elizabeth Goudge
Film - The Red Balloon
I'd still like to
...have an affair with Joe Grundy!