Book a Place
How to book a place at Radio 1's Academy 2014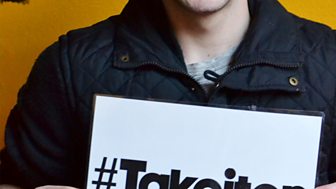 How do I book a place?
Young people living locally to Glasgow, from Scotland and the rest of the UK can apply to attend all remaining sessions and workshops with available spaces from Monday 5th May 2014 until the final day of the Academy, in person at Queen Margaret Union. You can sign up to as many as you like and remember, it's all free!
CLICK HERE TO SEE THE FULL 2014 TIMETABLE!
BBC Introducing Line Up:
WEDNESDAY 14th MAY
Capitol 1212, Tuff Love, Holy Esque
THURSDAY 15th MAY
Pinact, Eilidh Hadden, Copper Lungs
Can I just turn up at the door?
You can turn up at the door. If sessions are already full we will be operating a standby system for any booked places not taken up by the time the session begins. However, we cannot guarantee entry as people who have booked a place will have priority. We always over subscribe on tickets in order to secure numbers, and so we recommend booking in advance as we expect sessions to fill up quickly!
Is it free to attend?
Yes the sessions are all free, but as mentioned above we recommend that you reserve a place before turning up.
Is there a minimum or upper age limit?
Radio 1's Academy is focused on young people between 16 and 24-years-old. If you are aged between 14 and 16 you need to have a consent form signed by a parent or legal guardian (these will be sent with your confirmation letter after you have booked). For BBC Introducing gigs you will need to be accompanied by a responsible adult.
I don't live in Glasgow or Scotland, can I still attend Radio 1's Academy?
Yes! Radio 1's Academy is open to anyone.
Will I be able to claim travel or accommodation expenses to and from Radio 1's Academy?
There will be no travel or accommodation expenses provided for getting to or from Radio 1's Academy.
What is the address of where Radio 1's Academy 2014 will take place?
Queen Margaret Union
22 University Gardens
Glasgow
G12 8QN
Is there disabled access at Radio 1's Academy?
Yes, Queen Margaret Union is wheelchair accessible with wheelchair users entering through the double front doors at reception. There are toilets on the ground floor which cater for disabled access. There is a lift which allows disabled access between floors, therefore allowing disabled access on all levels.
If you require hearing assistance please let us know when you sign up and we will provide a sign language interpreter.
For more information about Queen Margaret Union head over to their website: qmunion.org.uk
Will I get to meet the Radio 1 and 1Xtra DJ's?
We can't promise that you will get to meet any of the guests at Radio 1's Academy, however Radio 1 DJs will be present every day.
Is there a restriction as to how many sessions I can attend?
There are no restrictions as to how many tickets you can have, but we do over subscribe as not everyone will turn up. You will need to provide the name (and email address where possible) for every person wishing to attend.
Do I need to bring ID?
Yes you need to bring your ID, all tickets will be named and only people with ID that matches the name on the allocated place will be allowed in.
Read the full terms and conditions.