Tom Service
Tom Service regularly presents Music Matters, Radio 3's flagship classical music magazine programme, with topical in-depth interviews, features and discussions on the big ideas driving today's music world.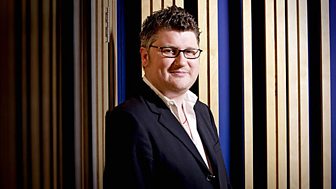 Tom writes about music for The Guardian, where he was Chief Classical Music Critic. In 2013 he presented a 6-part series of 20th Century Classics at the Proms for BBC Four television.
His books Music as Alchemy: Journeys with Great Conductors and their Orchestras and Full of Noises, interviews with the composer Thomas Adès, are published by Faber.
He was Guest Artistic Director of the Huddersfield Contemporary Music Festival in 2005. His PhD, at the University of Southampton, was on the music of John Zorn.