Ticket Information
BBC Radio 1Xtra Live in Glasgow takes place at the Riverside Museum in Glasgow on 17 May 2014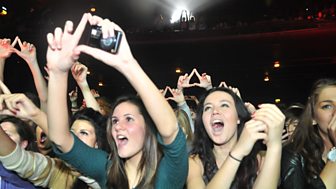 All available tickets for BBC Radio 1Xtra Live in Glasgow on Saturday 17 May have now been allocated and booking has closed.
We're sorry if you missed out – we had 4,000 tickets to give away, but with around 600,000 people living in Glasgow alone, there simply were not enough for everyone hoping to go.
A final few tickets will be given away in on-air competitions on 1Xtra in the weeks leading up to the event – keep listening for more information.
If you weren't lucky in getting tickets, you'll be able to enjoy extensive coverage of the weekend across 1Xtra and Radio 1.
Please do not risk buying tickets. Those offering tickets for sale or as prizes are breaking the Terms & Conditions they agreed to during the booking process and we reserve the right to cancel them.
Unfortunately a small handful of people do try to take advantage of those disappointed at missing out on getting tickets and claim – often falsely - they have tickets you can either buy, or win, via social media. We ask those running major auction websites and sales outlets to have posts offering tickets for sale or trade removed. However, since posts do not need to be approved before appearing, they are unable to stop them being advertised in the first place.with Radio 1's Big Weekend, an element of preference will be given to residents of the local area.
You may also see posts on other social media sites from people claiming they have tickets to give away as prizes. We are unable to stop people doing this and there is no way to know if their claims to have tickets are genuine – in many cases they may simply be trying to get more publicity for their pages.
You should also be aware that, in the past, some people have claimed their tickets have failed to arrive and cancelled them, ordering replacements. They have then offered the original tickets for sale; with those buying them not realising they are worthless until they turn up at the event on the day. There is a high probability that any tickets offered for sale for the event will have been cancelled and will not allow entry to the event.
Important Information for ticket holders
You need to be 16 or over to attend BBC Radio 1Xtra Live in Glasgow and ID will be requested at the entrance (see below for acceptable forms of ID).
We will post regular updates about 1Xtra and the event on our Facebook page and our Twitter @1xtra
Sorry, but we are not able to refund handling fees if you can no longer attend the event.
The rules and regulations governing ticket applications are below. If you were lucky enough to get a ticket, please take a moment to read the ticket Terms & Conditions.
We have also tried to answer some of the most Frequently Asked Questions.
Rules and Regulations
Rules and regulations governing ticket applications for BBC Radio 1Xtra Live in Glasgow.
You must be 16 or over to attend the event. ID will be requested at the entrance, with the following ID accepted 1) a valid passport; 2) a valid European Union Photocard Driving Licence; 3) a valid photographic identity card bearing the National Proof Of Age Standards Scheme (PASS) hologram.
Tickets will be given away in pairs and are limited to a maximum of one pair per person. A handling fee of £5 per pair of tickets will be applied to help cover ticket handling, postage and other associated ticketing costs. This will be non-refundable, whether the ticket is used or not, even in the unlikely circumstance that the event itself has to be cancelled.
Tickets are only available to UK residents and you can only apply using your main residential address. Checks may be undertaken to compare the address supplied against the registered address of the card used to pay the booking fee and we reserve the right to hold back tickets where these addresses differ and/or ask for proof you live at the address given.
You can apply on behalf of other people; however you must give that person's name and home address when doing so.
Tickets will be divided into three 'pots': 70% of tickets will be reserved for those living within the area covered by Glasgow City Council; 25% will be reserved for those resident in the rest of Scotland; with the remaining 5% available to the rest of the UK.
Tickets will only be posted to the address you give when applying and we cannot change this. If your tickets fail to arrive for any reason you will be able to ask for replacements to collect on the day of the event, but you will be required to provide proof of residence at the address given. Replacement tickets are not guaranteed and will be issued at the discretion of BBC Radio 1Xtra.
Those breaking the rules and regulations governing the ticket application process may have any tickets awarded to them cancelled.
Tickets may not be sold, traded, or offered for sale; and may not be used as a prize or for any other promotional or trade purpose by any organisation except the BBC. Tickets may be cancelled if offered for sale or as prizes.
The BBC, its sub-contractors, subsidiaries and/or agencies cannot accept any responsibility whatsoever for any technical failure or malfunction or any other problem with any telephone network or line, system, server, provider or otherwise which may result in any ticket application being lost or not properly registered or recorded.
Applicants must supply full details as required and comply with all rules and regulations to be eligible for tickets. No responsibility is accepted for ineligible applications, or applications made fraudulently.
The information you provide will be used by the BBC and See Tickets only for the purposes of administering the ticket allocation of 1Xtra Live in Glasgow, or matters related to the event. If successful in your application, your personal information will only be held for a maximum of one month following the event and be treated in accordance with the Data Protection Act 1998. Please visit the BBC's Privacy & Cookies Policy (www.bbc.co.uk/privacy) for more information.
The BBC reserves the right to cancel this event and ticket process or to alter or amend it at any stage, if deemed necessary in its opinion, and if circumstances arise outside of its control. Should the event be cancelled or line-up changed, the BBC is not liable for any loss of money or expenses incurred, including the ticket handling fee and cost of travel to the venue.
Administration for this ticket giveaway is being overseen from Radio 1Xtra's offices in London. As such, these rules are governed by the laws of England and Wales.
This event is administered by the BBC.
You can view the full ticket terms and conditions here
If you are in doubt about any of this process, here are some answers to some frequently asked questions.