BBC Concert Orchestra
The BBC Concert Orchestra is one of the UK's most versatile ensembles. Since 1952 it has been the house orchestra for BBC Radio 2's Friday Night Is Music Night. It gives frequent broadcasts on BBC Radio 3 and has performed on such BBC soundtracks as Africa and The Paradise.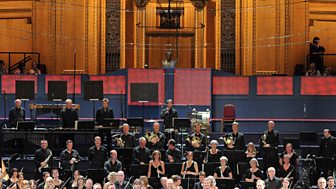 Keith Lockhart is the BBC CO's Principal Conductor, Barry Wordsworth is the orchestra's Conductor Laureate, and arranger and jazz trumpeter Guy Barker is currently Associate Composer, a position previously held by Radiohead guitarist Jonny Greenwood and the Art of Noise's Anne Dudley.
Appearances at the 2014 BBC Proms included the first ever BBC Sport Prom, a late-night concert with Neil Tennant and Chris Lowe of the Pet Shop Boys, a commemoration of the First World War centenary in the War Horse Prom, and a celebration of American music with Keith Lockhart and Time for Three. On the Last Night the orchestra performed in Hyde Park at Proms in the Park and the following day with Jeff Lynne's ELO.
Concerts in the 2014-15 season have included an exploration of the ballet music and culture of 1920s Paris, an all-American programme with maverick organist Cameron Carpenter, and a showcase of new British jazz at the EFG London Jazz Festival. The BBC CO also enjoys residencies at Watford Colosseum and Chichester Festival Theatre.
The orchestra plays a central role in key BBC Music initiatives, including the 'Ten Pieces' project which introduces children aged 7 - 11 to classical music, the inaugural BBC Music Awards on national television last December and as the 'impossible orchestra' alongside 27 star performers in the film and CD release of 'God Only Knows'.