Frank Paton
Rebellious, visionary but ruthless, Councillor Frank Paton's motto in life is simple – rules are made to be broken.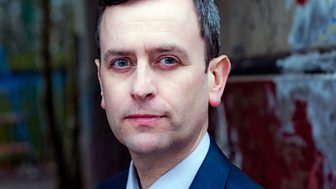 Frank comes from a strong trade union tradition. His father was a notorious firebrand in the shipyards in the 1970s and Frank inherited his passion, drive and gift for public speaking but shares none of his principles.
A natural orator, Frank loves people and they love him. He is charming, persuasive and bright.
Frank wants to lead people, to sell his vision of the world and he wants to take them with him. At any cost.
Frank is ruthless about achieving his vision and doesn't shy away from using his position to garner favour and make underhanded deals. He explains it away claiming he is a broker for Glasgow – the man who builds entrepreneurs who transform the city that he loves.
But Frank is lying to himself. He has made the mistake of thinking he is his position, and lost sight of the man he is. And his foray into the Shieldinch regeneration project drove him deeper and deeper into corruption. His greed and determination, coupled with a lack of morals, makes for a potent and potentially dangerous mix – as Raymond Henderson discovered when he was murdered by Paton.
He may look respectable but Frank Paton is a murderer – and Eileen Donachie knows it. Question is, can she uncover a killer or will Frank find a way to silence the latest threat to his public persona?
Paul Thomas Hickey
Paul Thomas Hickey plays Councillor Frank Paton in River City.