Afia Masood
Afia was adventurous and straight to the point. She didn't sugar-coat the truth, and didn't follow everyone else.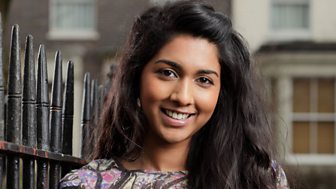 | Fact title | Fact data |
| --- | --- |
| First appearance: | 29th December 2009 |
| Last appearance: | 7 June 2012 |
| Occupation: | Co-owned and ran Argee Bhajee/Optician's receptionist |
Afia knew what she wanted - and how to get it. Which is how she and Tamwar got together. And ultimately how their marriage fell apart.
You must agree

Afia Masood
Favourite attire: Trainers - she's a tomboy at heart
Favourite food: Khir
Beliefs: Afia is a Muslim but she didn't really do the whole Ramadan thing before marrying Tamwar
Transport: Rides a scooter for the Argee Bhajee business
If Afia had been the shy and retiring type, she'd still be waiting for Tamwar to make a move. They married in secret, then had a second traditional family wedding.
But outside forces rocked their relationship. Her father Yusef drove a wedge through Tamwar's family, and nearly destroyed his mother. Yusef died in a fire, in which Tamwar received serious burns.
Tamwar and Afia's relationship never quite recovered. Ultimately, they realised that they wanted different things from life - Afia left on her moped for travel and adventure, Tamwar stayed at home with his mum.
Meryl Fernandes
EastEnders was Meryl's first professional acting role, although she has also appeared in the show as a schoolgirl extra!
She has also starred in a variety of television shows, including the smash hit drama Doctor Who and Minder, alongside none other than resident cheeky-chappy Shane Richie!
On stage, Meryl has dazzled audiences at the National Theatre in The Man of Mode and A Matter of Life and Death
Find out more about Afia's Walford connections and play quizzes and games in our family tree.