Ben Reynolds
Who are you and what do you play in The Horne Section?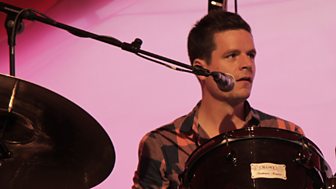 Hello, I'm Ben and I play the drums!
Will's so very tall and he assures me it's not just a phase.

Ben Reynolds
If you each had a nickname (a bit like the Spice Girls), which 'Horne' would you be?
I'd be 'Penne Horne' - I usually cook pasta at our rehearsals.
Do you have a signature move? What is it?
Yes; pick up pen, write my name, put down pen.
How were you recruited for The Horne Section?
I completed a series of physical, mental and cricket tests, at the end of which I was chosen to bang on the drums instead of all the other candidates.
What did you do before you joined the group?
Got up, ate breakfast (porridge) and drove round the A406 to Mark's house.
What are the best and worst gigs you've ever played?
Best gig: The Horne Section, Edinburgh 2010, featuring Joe Auckland in hot pants on Tim Key's shoulders playing 'Tequila'...
Worst gig: when my bass drum beater got stuck up my trouser leg in a school concert.
You must have spent a lot of time with the rest of the band. Do any of them have any strange and disturbing habits you could share with us?
Will's so very tall and he assures me it's not just a phase. I mean, like as tall as a tree (bush) or small ladder on its side with a smaller ladder on top. I think it looks weird.
What's the most divine piece of music your ears have ever encountered?
Music for 18 musicians by American minimalist Steve Reich.
As part of The Horne Section, you must have worked with some pretty excellent comedians – can you tell us about some of those?
Alex Horne is probably my favourite.
Finally, are you seeking world domination and how will you know when you've achieved it?
World domination would be ideal. Mum said she'd text me to let me know when it happens but mum's texting is approximate at best. Subsequently, I think the odds are far better that we will achieve world domination and never know about it than me receiving a text from my mum, that is, unless Alex has a similar arrangement with his mum. Mrs Horne is a very competent texter.
Galleries
Edinburgh Special 2012

—

Alex Horne Presents The Horne Section, Alex Horne Presents the Horne Section: Edinburgh 2012
The Horne Section on the web