Alasdair Friseal
Tha Alasdair air a bhith ag obair mar fhear-naidheachd dhan BhBC airson còrr is deich bliadhna.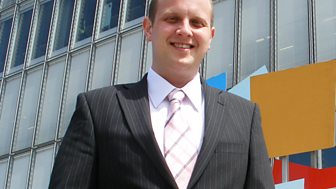 Anns an ùine sin tha e air a bhith ag obair air grunn phrògraman-naidheachd, air rèidio agus telebhisean. Tha e air grunn sgeulachdan a dhèanamh do dh'Eòrpa – nam measg, a' leantainn Prìomh Mhinistear ùr na Pòlainn, Dòmhnall Tusk, air a' chiad latha aige san obair.
Tha an Roinn Eòrpa air atharrachadh cho mòr bho thòisich mi air Eòrpa, tha mòran dhùthchannan eile a-nis as an EU. Tha duilgheadasan mòra mun coinneimh san àm ri teachd – dèiligeadh ri trioblaidean eaconamach as a' chiad dol a-mach.

Alasdair Friseal
Stèidhichte ann an Glaschu, bidh Alasdair cuideachd a' lìbhrigeadh phrògraman naidheachd eile leithid, An Là agus Reporting Scotland.
Alasdair Fraser
Alasdair Fraser has been a journalist with BBC Gàidhlig for over ten years. During that time he has worked on many news programmes across radio and television. He has covered many stories for Eòrpa – one highlight was following new Polish Prime Minister Donald Tusk on his first day in the job. Based in Glasgow, Alasdair presents other news programmes such as An Là and Reporting Scotland. "Europe has changed so much since I started working on Eòrpa, so many more countries have joined the EU. They all face big challenges in the future – sorting out the economy would be a good start!"