Kieran Hodgson
Character comedan Kieran Hodgson makes a bid for a slot on BBC Radio 3 and urges listeners to lobby the Globe Theatre's Artistic Director.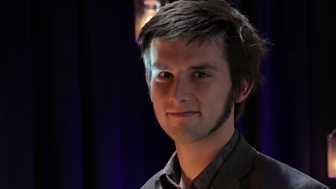 Who are you and what can we expect from your performance?
My only real experience with radio before now was presenting a two hour classical music show on student radio.

Kieran Hodgson
I am Kieran Hodgson and I am a character comedian. (This is a posh way of saying I do a silly voice for a few minutes.)
You've been plucked from the Edinburgh Fringe and dropped onto Radio 4. Is there anything you've had to do to make your performance work for the airwaves?
I have to own up and say the voice is probably going to have to get a lot sillier, especially given that the silly face that accompanies just won't communicate. Fortunately the character I do tells a little story that the audience has to imagine anyway, so it'll actually be very nice and helpful to have an audience well-versed in imagining things.
Would you like to be involved with radio in the future?
As a teenager I was obsessed with Dead Ringers, given the array of silly voices on offer, and always dreamed of a big Radio 4 man with a cigar and a top hat coming along and insisting I join the cast. Sadly I reached working age to find that Dead Ringers was no more. Exactly the same thing happened to me with Hancock's Half-Hour.
My only real experience with radio before now was presenting a two hour classical music show on student radio. I once played a track that was an hour and a half long. On a good day I had anything up to five listeners and the broadcast machinery would be working. This is a project I would be very keen on doing again, preferably booting some very experienced presenter off Radio 3.
Speaking of the Fringe, can you tell us any stories from this year's festival?
Every year our group of friends stages a Christmas Day in the flat. It's usually towards the end of the festival and is a way of celebrating/beginning the healing process. We have Secret Santa, a massive Christmas dinner, we listen to Christmas music and everyone has to write a Christmas poem. This year's poems were very strong, and I did an Ian Macmillan parody that two people in the group really got on board with, so that was a highlight.
I also conduct a Midnight Mass the night before Christmas Day, and it was a lovely service this year. Al Roberts of Sheeps delivered a thoughtful sermon and Ben Target brought real depth to the Old Testament reading. Sadly the wafers for the Eucharist were a bit too chewy and everyone complained. (My bad.)
Did you see any other acts at the festival that you think we should investigate?
Doctor Brown, the act I spent the entire Fringe recommending, ended up winning the award for best show, which was cool because it meant I had a good opinion, but was also uncool because it meant I hadn't found something unknown and edgy. That aside, everyone should go and see Doctor Brown's show, along with Oyster Eyes, who had me weeping with laughter. I saw their show three times. It's extraordinary.
Edinburgh aside, is there anything else we might recognise you from?
I also keep the wolf from the door by working as a private tutor, so if your child lives in SW1 and is interested in passing the Westminster entrance exam then I may have been recommended to you by a neighbour. That aside I have been writing and performing with an act called Kieran and Joe, and last year I played an obnoxious West Country mayor in an episode of Giles Wemmbley-Hogg Goes Off. For fans of the show, I also played the customs inspector in the airport scene.
Finally, let's have the all-important 'careers talk'... Where do you see yourself in five years?
Unless the entrance exams change drastically it is more than likely that I will still be offering my services as a French tutor in the Kensington area. I plan on continuing this as a sideline whilst breaking America with my dazzling array of English regional accents. I would also REALLY like to do something at the Globe Theatre, because it seems like the most fun place in the world to perform. I'm kind of banking on this [performing on Fresh from the Fringe] to kick-start an aggressive letter-writing campaign from the Radio 4 listenership to the Globe's artistic director.