Zoe Luther
Zoe met and married John Luther while both were at university.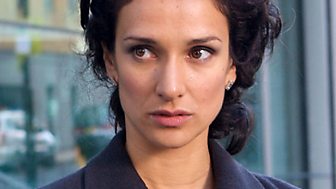 While she continues to love Luther and admire his single-mindedness, she has had to spend all those years of marriage watching him being consumed by his calling, until it has destroyed the spirit of the young man she married. Falling in love with Mark North was a seismic shift that took her away from Luther's darkness to the ease and light of a normal life with a good man. Mark is her intellectual and temperamental counterpart. She enjoys his goodness, his attentiveness, his easy manner. With Mark she feels special. And for the first time, ordinary.
Indira Varma
Since graduating from RADA in 1995, Indira Varma has appeared in many film and television productions including Karma Sutra, The Canterbury Tales, Bride and Prejudice, Whistleblower and Moses Jones. She also starred in HBO's historical drama, Rome as Niobe, and the drama 3lbs opposite Stanley Tucci. Indira has also appeared on stage in Twelfth Night at Wyndham's Theatre, The Vertical Hour at the Royal Court theatre and The Vortex at The Donmar Warehouse to name just a few. She was also fortunate enough to work with Harold Pinter on numerous productions both in London and on Broadway.