Yasser
Manchester born Yasser's career began at the tender age of twelve when he was employed by CBBC to take part in a number of shows across the channel. Throughout his school years he was a regular volunteer at his local hospital radio station. His interest in radio presenting began here.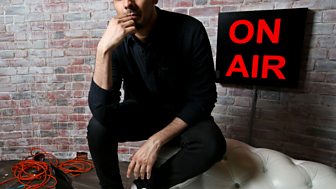 Nominated for Best Male Presenter and Best Specialist Music show at the BBC Radio 1

National Student Radio Awards
Whist at University, he volunteered at Leeds' biggest community radio station Fever FM and presented an evening show. A year later, he was offered the prestigious early morning breakfast slot. It was not long until he was approached by Asian Sound Radio, to host their chart show.
Still doing his degree, Yasser was also involved in his student radio station LSR.FM where he presented his comedy show, The Lazy Eskimo Show and a specialist Asian Beats music show.
He has been nominated for Best Male Presenter and Best Specialist Music show at the BBC Radio 1 National Student Radio awards and 4 National Student Television awards, including Best On-screen male and Best Comedy on Met TV.
Aside from his radio work, Yasser is also a successful DJ. His unique ability to mix and scratch secured him weekly residencies at some of the biggest clubs in the country, including Sankeys Manchester and the Warehouse Leeds, both in the top 100 clubs in the world.
Yasser is an avid and popular Youtube user in his spare time. 'Mr Yazzur' as he is known online - has a unique presenting style, quick wit and sense of humour that attracts hundreds of thousands of hits across the world on his comedy videos.
Having spent some time at Capital FM, Yasser now presents a flagship new music show on Friday night's on the BBC Asian Network – a National digital radio station celebrating British Asian and Bollywood music, culture and lifestyle.