Tamara
LIKES TO SEW: Anything quirky, think Vivienne Westwood meets Helena Bonham-Carter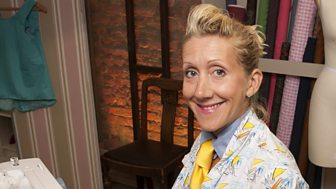 | Fact title | Fact data |
| --- | --- |
| Age | 40 |
| Hometown | Surrey |
| Occupation | Yoga instructor and part-time children's entertainer |
Tamara isn't one to sit still. She is a mum of 2, a children's entertainer, cup cake maker, and a yoga teacher. In the sewing room she never takes the easy route either – always ambitious surprising and risk taking.
She is also a highly imaginative sewer with over 30 years of experience behind her. She stands out from the crowd with her eccentric sense of style and love of bright unsual 60's and 70's fabrics - upcycling everything from old duvets to flee market curtains. Tamara inherited her mum and aunty's vintage pattern collection which she uses as inspiration for her crazy creations.
When she found out that she'd won a place in the Sewing Bee, household chores took a backseat and the sewing machine was taken on the family holiday in order to get some practice in.