John Lynch
John Lynch plays Frank Blake in the new series of Shetland.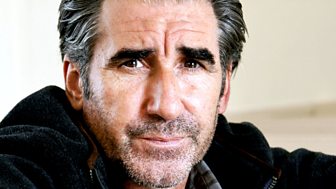 Tell us a little about your character?
Frank's married to a very brilliant co-researcher scientist, who gets killed and, from that point, everything gets very complicated

John Lynch
Frank's a very warm, together guy. I think his marriage has had problems but together with his wife, they seem to have been working them out.
What is the storyline you're involved in - Blue Lightning?
Frank's in charge of the research institute on Fair Isle and oversees all the research on the birds on the island. He's married to a very brilliant co-researcher scientist, who gets killed and, from that point, everything gets very complicated.
I really enjoyed working with Dougie Henshall, we've know each other for a long time but it was great to get the chance to work on this together.
What attracted you to working on Shetland?
The drama was a draw but the opportunity to visit Shetland was a real pull for me. I loved it there - I even managed a little boat tour and visited the gannet colony. I really had a nice time there - I really enjoyed it. It was the first time I'd ever been there before and had no idea what to expect.
Shetland is a place full of different influences from Scotland to Norway, and that makes it unique.
What do you think makes Shetland such a unique location?
It's so northernly and yet so familiar, but then you suddenly spot a piece of coastline that you've never seen before anywhere else. And as well as that there's the history of the whaling, shipping and now the oil industry which has resulted in huge communities entrenched in oil. The sea, the wildilife, the landscape, the people – those are the things I took away from my Shetland experience.
Are you a fan of crime fiction?
I love crime documentaries - I must admit I do enjoy following real life crimes. But in terms of crime drama? Columbo is the king. He has tremendous quirks, wonderful charisma, I'm a big Columbo fan.
I don't watch anything I'm involved in, I don't find that helpful or interesting. I enjoy working on it but watching it? No, that's for the viewers to decide whether they like it or not.
How was it working with Douglas Henshall and Bill Paterson?
Dougie's a tremendously precise actor, very very present. We got on really well - I enjoyed it a lot.
I met Bill through a friend of ours years ago. He has a great quirky sense of humour, which is important on set. He's great at keeping everyone's spirits and morale up – which is important when you're shooting long days.
Any memorable filming experiences?
The day we shot in a white church in Shetland [Fair Isle Kirk] stands out for me. It was quite an extraordinary place and extraordinary atmosphere and it stands out of all the shooting days we had on Shetland.
Also, working in Glasgow for the first time. But, above all else, what was memorable for me was the welcome – I was so warmly welcomed in Scotland it was fabulous.
What can viewers expect from your Shetland episodes?
The shooting style is wonderful and the story is a very complex look at how people can betray each other, quietly without great fanfare, and how all sorts of things can come to light.