Huey Morgan
Hear Huey, Saturdays, 3-6am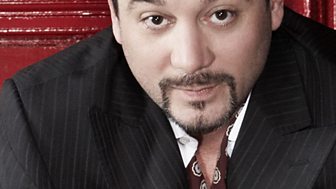 Gorgeous, charismatic, cheeky and mysterious, Huey Morgan – full name Hugh Thomas Angel Diaz Morgan - is quite a personality. He is extremely popular and incredibly recognisable. Men want to be him and ladies want to be with him.
Huey was the co-presenter with Liza Tarbuck on Liza and Huey's Pet Nation for Sky 1 and is the main presenter for slips on MTV. He currently hosts his own Sunday show entitled 'The Huey Show' on BBC Radio 6 Music, plus his late night/early morning show for Radio 2, Fridays at 0000 – 0300. He's also covered for Radcliffe and Maconie, Dermot O'Leary and Jonathan Ross on Radio 2, and for Lauren Laverne's daily Radio 6 Music mid-morning show while she was on maternity leave.
New Yorker Huey is more well known for being the lead singer of the infamous rock/hip hop group Fun Lovin' Criminals. He is a guitarist and applies his rock abilities in combination with hip hop music, jazz, rock music, reggae, and funk.
Huey and his wife, DJ agent Becky, split their time equally between uber cool Notting Hill and their apartment on Broadway, New York. After appearing on The Underdog Show for BBC Two he has turned his sights to British television. He has taken part in Jack Osbourne's Adrenalin Junkie for ITV2, undertaking all sorts of stunts in South Africa, proving he is game for anything! Huey was a regular presenter on TFI Friday for Channel 4 and went on to guest host Never Mind the Buzzcocks for BBC One. In 2008 he was the exclusive backstage reporter for the Brits and even managed to interview Amy Winehouse who used to have posters of him on her wall. Other credits include The British Comedy Awards, Graham Norton Show, MTV Europe Music Awards and The Late Late Show.
Not limited in talent, Huey is keen to act. He has already been in a few films and has also played cameo roles as himself.
In his minimal spare time Huey likes to train the local youth baseball team, take his dog for a walk and come up with TV ideas. Being half Puerto Rican and half Irish, he owns several bars and pizza restaurants in Dublin which helps keep him close to his roots.