France
Representing France are Twin Twin with Moustache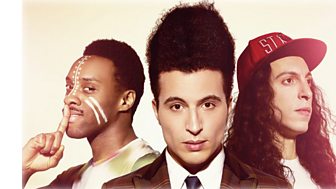 Self-styled ambassadors of the YOLO (You Only Live Once) generation, Twin Twin drew critical attention early on in France for their extravagant style, drawing inspiration from both Paris street style to high fashion.
We express a whole range of things and levels in our music and our work

Twin Twin
In a short space of time, Twin Twin have been invited to perform at some of the largest music festivals in France and around the world, playing concerts in Colombia, Canada, Spain and Belgium.
The dance track Moustache tells the story of a man who already has everything, but who still wants a moustache, and is described as a humorous and affectionate critique of our culture of hyper-consumption.