Eddie Grundy
Eddie is the king of daft schemes, but had the good sense to marry Clarrie, who supports him in good times and (more frequently) in bad.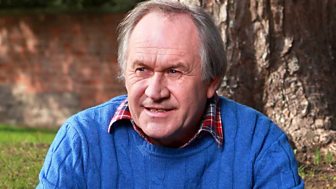 | Fact title | Fact data |
| --- | --- |
| Played by: | Trevor Harrison |
| Born: | 15 March 1951 |
| Status: | |
| Occupation: | A bit of this, a bit of that... plus part-time at livestock market |
| Lives at: | Grange Farm |
| Owns: | Grundy's Field (the nerve centre of Grundy Enterprises) |
Long-term tenant farmers at Grange Farm, the Grundys were evicted in 2000, and moved to a council flat until they were able to rent Keeper's Cottage.
With a windfall, Eddie bought Grundys' Field, the site of all his money-making wheezes, from turkeys and camping to the cider club, the Grundy World of Christmas and the terrifying ElfWorld. Landscaping, selling garden gnomes and part-time farm work help keep the wolf (just) from the Grundy door.
Being flooded out of Keeper's Cottage in 2015 was a disastrous blow, as Eddie hadn't kept up the insurance. He was deeply grateful to Oliver Sterling for letting them return to Grange Farm – but that hasn't stopped him keeping pigs and running it as a B&B.
The one constant in his life (aside from his partner-in-crime - dad Joe) is Clarrie - who when they got together paid off his debts and bought her own engagement ring. She's been with Eddie through thick and thin, richer and poorer (but generally poorer).
More about Eddie
Grange Farm never felt quite right without Eddie, Clarrie and Joe - here's how they returned to their spiritual home.
I tell you Clarrie love, this'll make our fortune

Eddie Grundy
Likes: Cider, country music, ferrets
Dislikes: Building regulations, cheques
Highs: Meeting Britt Ekland, buying Grundys' Field
Lows: Will and Ed's fights; selling condemned meat
Trevor on playing Eddie
I think Eddie is a loveable rogue. He is a bit naughty at times, but can also be sensitive when the situation arises and he very much a family man.
Trevor Harrison
Trevor was born on 16 March 1957 in Stourbridge. He first got interested in acting at school, and admits it wasn't just on stage he acted up, but sometimes in the classroom too! His favourite role in the school plays he appeared in was Toad, in Toad of Toad Hall.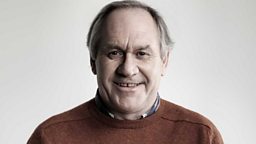 He trained at the Birmingham Theatre School and it was here that he had his first experience in professional theatre at the Birmingham Rep.
In 1979 Trevor joined The Archers as Eddie Grundy, a role which he has loved since day one. In the early 80s the Eddie Grundy fan club was formed, and the late John Walters and John Peel were among its founder members.
Trevor has appeared on radio and TV in dramas and light entertainment including several months in Crossroads. For a while he had his own show on his local radio station BBC Hereford and Worcester. He has appeared in rep, theatre tours and in panto and has also made several records.
Trevor lives in a small village in Worcestershire with his wife Annette. They both love the countryside and country walks. He is a keen bird watcher, especially of birds of prey. History is another hobby of his and he likes visiting historical sites and houses.
The new century was a landmark for both Eddie and for Trevor. In the year 2000 Eddie lost his home at Grange Farm but in 2001 Trevor gained the MBE.
Archers highlights
I will always remember when the Grundys were evicted from Grange Farm.
I had real tears in my eyes

Trevor Harrison
Over the years, we had many storylines based there so when we recorded the scene and the Grundys were leaving their home I had real tears in my eyes.
The producer who was directing the scene comforted us Grundys with a glass of wine after the recording.
Other career highlights
I was asked to address some Worcestershire Asparagus on St George's Day 2009 - a bit like Robert Burns to the haggis. I wrote an ode, thinking it would only be heard by an audience in Evesham. However, the media took an unexpected interest in the story and I ended up reading it live on national TV for BBC Breakfast Time – watch out Bert Fry!
Favourite
Actor - My favourite actor was Peter Sellers. I loved his characters with their wonderful voices. I would have loved to have worked with him.
Book - Wind In The Willows. I love the countryside and every time I am by a river bank I can't help thinking about Toad, Badger, Ratty and Mole.
Film - I think it must be Camelot with Richard Harris. It was watching this film that really convinced me that I would love to be an actor. I can still remember most of the words to the songs.