Mac
17 years old. Unlike Paul, Mac talks – well – most of the time. A hive of knowledge and theories he is almost a walking encyclopedia of geeky film quotes – yes, Mac has a lot to communicate and seemingly not a lot of time.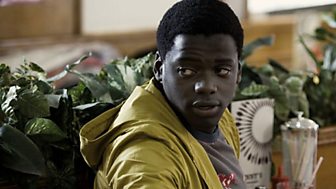 The son of a police detective under pressure, Mac would always say he's cool with his place in the world, but the truth is – Mac doesn't want to be this invisible person that people walk through. As Paul develops his Angelic powers, so Mac will feel increasingly left out. Mac and Paul have always been a double act – and if Paul [Iain De Caestecker] outgrows him, he's scared he will be left nothing. He may not have any special powers, but Mac is also our hero – he's Paul's wingman and right at the heart of everything.
Just don't - leave me behind, OK?"

Mac
Daniel Kaluuya
Early roles for Daniel included Reece in Shoot the Messenger and Posh Kenneth in Skins (on which he was also a staff writer). He has since appeared in Silent Witness, Doctor Who and Lewis. Additionally, Daniel's comedy skills have been on display in That Mitchell and Webb Look, Harry and Paul and most recently Psychoville. In film, he's starred in Chatroom and the upcoming Johnny English Reborn.